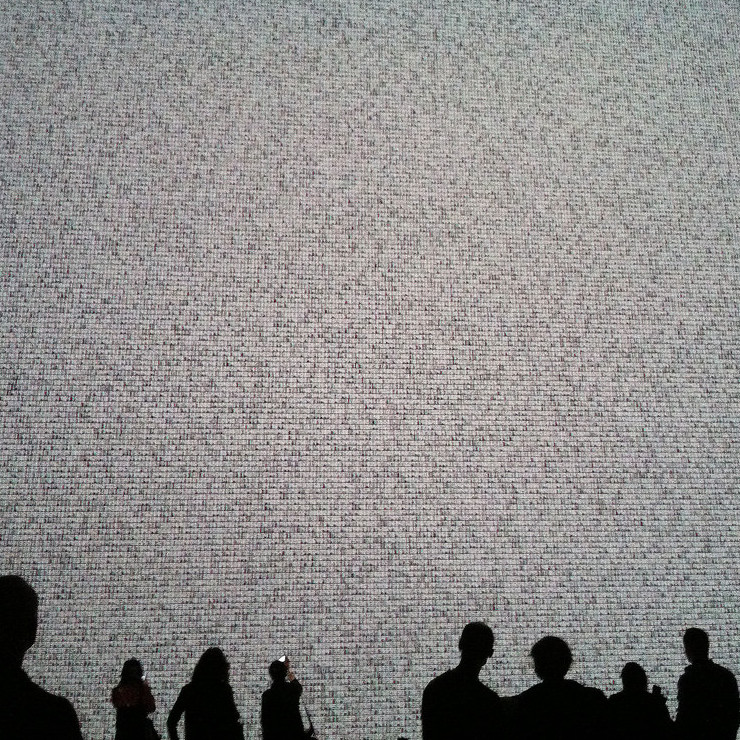 In an earlier post I shared the history of the "fact sheets" I maintain about health and technology. I thought I'd share a few highlights from the grandmother of them all — key data points on U.S. teens and adults and their use of technology to pursue health. It is the first one I created when I worked at the Pew Research Center and then ported over to this site when I left in 2014.
First topic: internet access.
89% of U.S. adults go online. Nearly all teens have access to the internet and 45% say they are online "constantly." (Adults: 2018; teens: 2018)
These data points may seem obvious, but I think of them as the bassline thrumming underneath the public conversation about the internet's impact on American society. The chart below is another illustration of the internet as nearly-but-not-quite ubiquitous since it highlights the 11% of U.S. adults who do NOT use the internet: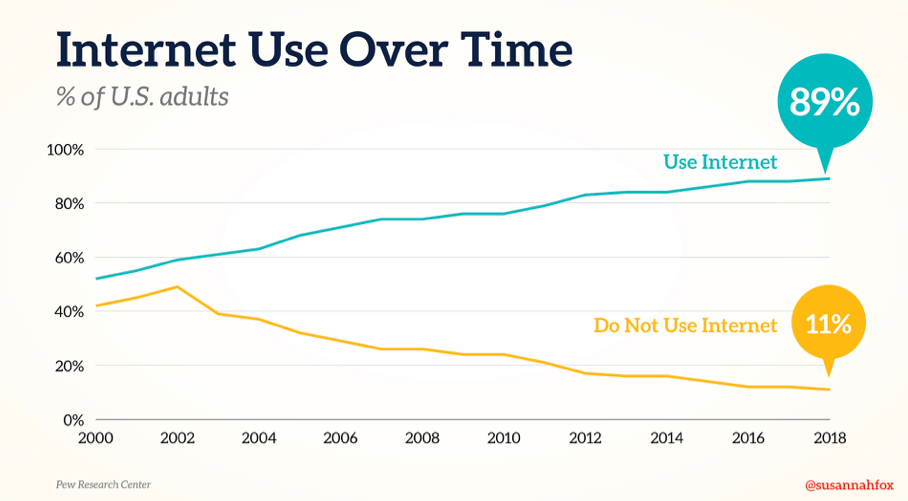 Internet access is unevenly distributed:
Since older adults are of particular interest to many people in health care, I'll add: 67% of U.S. adults ages 65+ use the internet. Education plays a role in seniors' tech adoption: College graduates go online at significantly higher rates than those with lower levels of education. (2017)
People who click through to read the 2017 report will be rewarded with eye-opening data, such as the fact that only half (49%) of older adults with less than a high school education use the internet, compared with 92% of older adults with a college degree.
The next few data points are so popular that I used to joke that they were my version of "Free Bird" (for people unfamiliar with the joke, see the Wikipedia article and this Wall Street Journal article):
95% of U.S. adults have a cellphone. 77% of U.S adults own a smartphone. 95% of U.S. teens either have a smartphone or access to one. (Adults: 2018; teens: 2018)
69% of U.S. adults use some type of social media. 93% of U.S. teens and young adults (ages 14-22) report using social media. (Adults: 2018; teens: 2018)
59% of U.S. adults say they have looked online for information about a range of health topics in the past year. (Full report: 2013)
Since one of my primary interests is boosting the signal for peer health advice, I include the following data points in this fact sheet to remind people of how widespread it is to look for a "just-in-time someone-like-me":
39% of U.S. teens and young adults say they have gone online to try to find people with health conditions similar to their own, using methods such as participating in online forums or closed social media groups on specific issues, doing hashtag searches on social media, or following people with similar health conditions. (2018)
One third (33%) of U.S. teens and young adults have successfully connected with health peers online, and 91% of them say the experience was helpful. (2018)
One in four U.S. adults (24%) says that they turned to others who have the same health condition during their last bout with illness. One in four internet users (26%) have read or watched someone else's experience about health or medical issues in the last 12 months. And 16% of internet users have gone online to find others who might share the same health concerns in the last year. (2013)
I maintain this fact sheet to encourage people to cite the data, explore the concepts, and incorporate them into their own work. In other words, I want the data to be useful. Please check out the rest of this fact sheet and please let me know what you think in the comments below. What's missing? What are you curious about that isn't covered?
Featured image: "mesmerized by numbers" by Hsing Wei on Flickr