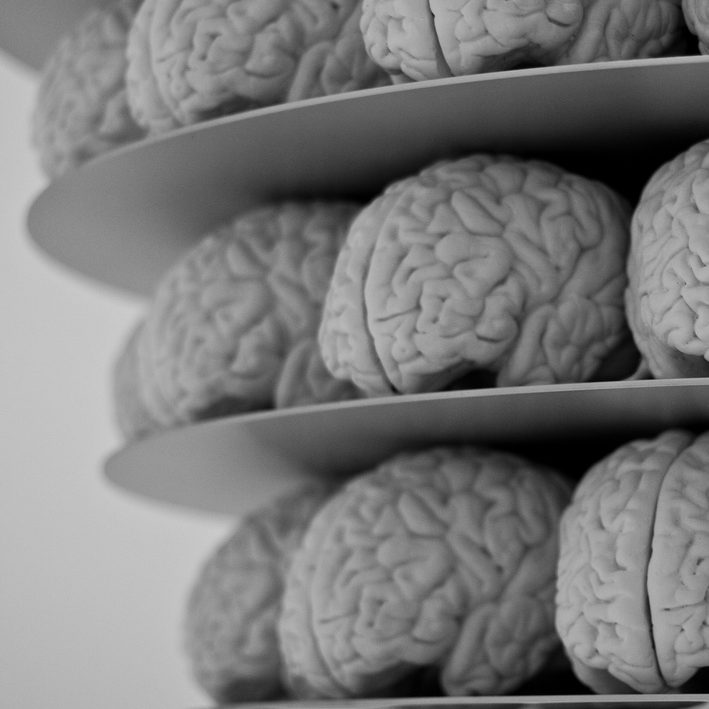 We have a "last mile" problem in patient communities.
In the first post of this series, I asked for general advice about finding your people — the peers who could give you advice about your health condition and answer even your most secret questions.
Now I'd like to focus on how someone would approach getting advice about a specific procedure: brain surgery to remove a meningioma, the most common type of brain tumor.
I started by looking at the blog of someone I know: Charlie Blotner, who blogs and helps run the Brain Tumor Social Media (#btsm) community on Twitter. 
Charlie lists an array of resources, including the National Brain Tumor Society. Clicking through, I found a page listing every known type of brain tumor, including meningiomas. The first-person stories on their site about meningioma are intriguing, but lead nowhere. You never find out what happened to anyone who shares their story — unless the person died from not treating it. Yikes.
I also followed Charlie's links to other blogs, but I fell into one of the pitfalls of reading people's personal accounts of illness: It was interesting, but not helpful to me. People blog about what they want to share — a gift to the world, make no mistake — but their stories often aren't organized in a way that makes it easy for a newly diagnosed patient to find what they need, to answer the questions that keep them up at night.
Questions like:
What were the main reasons why you chose surgery over other options?

How did you prepare for brain surgery, both physically and emotionally? What was the scariest part?

How did you talk with friends and family about your diagnosis? Did it change how they treated you?

Post-surgery, what helped you get better faster? If you had setbacks, why? If you could do it over again, what would you have skipped or done differently? How long did you really feel like crap?

Are there any hidden upsides to brain surgery? Besides survival, obviously.
When I asked directly for advice, via email, Charlie advised me to check out Eric Galvez's blog about his experience with a meningioma. Indeed, it would be a perfect read for another athletic young guy like Eric, a licensed physical therapist and surfer…but how would a newly diagnosed person find his blog if they didn't have the phone-a-friend network that I do?
Liz Salmi's blog, The Liz Army, is visually appealing (she is, after all, a graphic designer) and she tags her posts in a very helpful way: Newly Diagnosed; On Treatment; Advocacy; etc. It's on her site that I started to find the practical tips I was looking for about preparation for and recovery from brain surgery. And I found an answer to one of the toughest questions I was asking: Are there any hidden upsides? Steven Keating, featured along with Liz in The Open Patient, said that when he forgets something he gets to claim, with a laugh, that they must have cut that part out of his brain.
Charlie also pointed me to Samira Rajabi's philosophical meditations on brain surgery that anyone might benefit from, such as her essay, "Radical Honesty: Surviving Treatment, Recovery and Getting Better." And if you know anyone who has been diagnosed with a vestibular schwannoma, aka an acoustic neuroma, please point them to her enlightening and useful blog.
But again, it isn't efficient to rely on word of mouth to connect the need-knower (someone searching for a peer) with a problem-solver (Eric, Liz, Samira). When I Googled vestibular schwannoma, for example, no patient-written blogs appear on the first 10 pages of results. If you add the word "blog" to the search however, it's like that scene in Monsters Inc. when a seemingly endless line of doors appear, each one leading into someone's intimate story.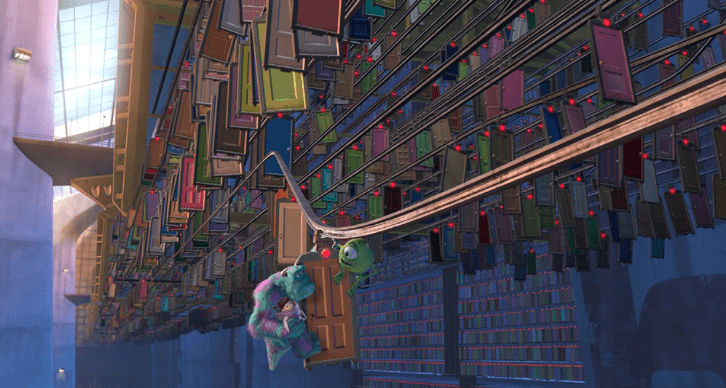 It's miraculous. And yet invisible to most people.
Charlie also recommended an old-school list serv focused on oligodendroglioma (say THAT three times fast). I have to quote Charlie in full so you can benefit from their full blast of wisdom and experience:
"I'm a big fan of crowd sourcing information, so I did just that. Even though I read textbook chapters and journal articles to find out more about the best treatment option, center, and doctors, this list serv was my primary source of information. High school me hated biology class, so I needed to talk to people who knew more about the brain and were willing to share.

I found out that MD Anderson had a proton beam radiation machine from the list serv (my first choice of a treatment protocol that fell through when my tumor was too deeply imbedded for what they wanted to do), that I needed to see Dr. Berger at UCSF if I wanted to wake up still talking, and who to avoid based off of who had negative outcomes with particular surgeons after having similar tumors removed from similar areas of the brain."
If you have searched online for answers to questions like the ones in the list above, how did you do it?
If you have ideas for how to solve the "last mile" problem, please share those, too.
Next case study: One in a million diagnosis
Featured image: Brains, by Neil Conway on Flickr