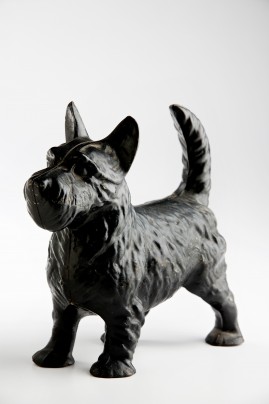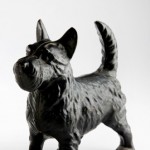 The following essay appeared in The Washington Post magazine in a column that asks: "So much is contained in such small things. What holds meaning for you?" I wrote it as a tribute to my father's resilience, which I hope to pass down to my sons:
I was 24 and still called Susy when my grandparents' house in Towson was cleaned out for sale. I asked for just a few things, including a cast-iron doorstop in the shape of a Scottie dog. I'd always thought it would make a cute bookend.
When my dad brought my stuff over to my apartment in D.C., I met him on the sidewalk. He asked if I knew that the Scottie dog had originally come from his grandparents' house. He hesitated, then added that it was the doorstop from the upstairs parlor, where he was sitting when he was told, at age 6, that his mother was dead.
He remembered staring at the little Scottie dog as the news sank in, not being able to take his eyes off it. My dad had never talked with me about his mother's death, and now we were crying together.
"I sang myself to sleep every night for a year," he continued. "You are named for the song my mother had sung to me: 'Oh! Susanna.' "
From that day on, I went by Susannah. And the Scottie dog is a very cute bookend.