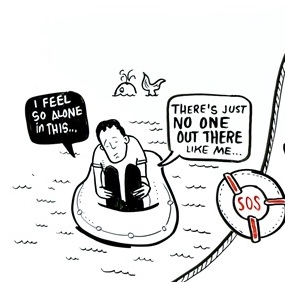 Friends, I have yet another so-extraordinary-it's-ordinary story of peer-to-peer health care to share.
Andrew Wilkinson wrote on Twitter:
A few months ago, as a last ditch effort, I posted on Twitter about the horrible acid reflux which I'd been suffering from for almost 10 years. I had tried just about everything. Proton pump inhibitors, dietary changes, supplements, throat exercises, acupuncture—you name it.

I was getting to the point where I was looking into highly invasive surgeries like Nissen Fundiplication (a surgery where they wrap your stomach around your esophagus to keep acid from coming through), but figured hey, what was the harm in asking Twitter…

A few minutes later, I got a one line DM from @jordanmoore: "Can you burp?" I have never been able to burp, but never thought much of it. Maybe 1-2 times per year, I'll let out a random burp while laughing really hard. Even as a baby, my parents said I never burped…

Instead, after almost every meal, I'd start to feel a pressure in my upper stomach and throat after eating. Except instead of letting out a burp, to relieve it, the pressure built and built. Then, usually, I'd start getting acid reflux…

@JordanMoore's brother had the same affliction, and turned me onto a Reddit community called NoBurp (http://reddit.com/r/NoBurp) It turned out there was hundreds of us all over the world, and one of the top symptoms was chronic acid reflux that didn't respond to treatment…

Even crazier, a doctor in Chicago had recently published a study, validating this as a legitimate condition and showing that Botox injections in the throat resolve the issue for 80% of patients. He dubbed it Retrograde Cricopharyngeus Dysfunction.

So, in a few weeks, I'm off to Chicago to get some throat injections and hopefully solve my reflux for once and for all. Here's a funny little documentary that a fellow NoBurp sufferer just made, showing his successful treatment:
Some people cry at videos of dogs reunited with their owners or children hearing their mother's voice for the first time. I'm embarrassed to admit that I just shed a tear watching a guy learn how to burp…

Thank you, @JordanMoore! The Power of Twitter!
What a story! And yes, three cheers for the internet's ability to connect people not only to information, but also to each other. Or, as one person replied: "Having 50K followers is the best kind of health insurance."
Let's break it down:
A man has mysterious symptoms that at first seem more annoying than debilitating. He goes about his life, including being an early Twitter user (he joined in 2006, the platform's first year).
The symptoms get worse and he seeks medical help. Ten years pass without much improvement despite increasingly serious interventions. He continues to contribute to a growing online community that has little or nothing to do with health or health care.
Just before he undergoes expensive, invasive surgery, he posts a description of his problem to Twitter. Within minutes, a follower messages with a question that no clinician has asked. The answer turns out to be the key to an underground community of fellow sufferers and possibly a lower-cost, less-invasive alternative to surgery.
If peer-to-peer health care was bottled, stores would not be able to keep it on their shelves. Fully 9 in 10 teens and young adults who have tried it say it was helpful.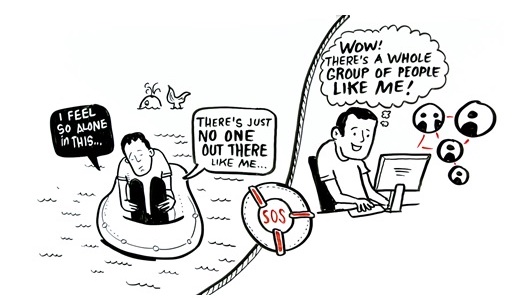 Other examples of peer connection are abundant, once you start looking: A woman posts a picture on Instagram that prompts someone to ask a doctor a new question – and it turns out to be the key to a diagnosis. Someone else shoots a quick video of how to use a baker's spatula to safely turn her incapacitated father in bed so the sheets can be changed – and shares it with her sisters so they can save their back muscles. Someone hears about a drug interaction and shares the news with his online community – alerting a patient in need of that just-in-time advice.
How might we help more people:
I'd welcome your ideas, suggestions, and stories in the comments below.
Illustrations by Reframe Health (excerpts from the Peer Health Advice video we produced together.) Special thanks to Lisa Bari for the tip about Andrew Wilkinson's tweet thread.