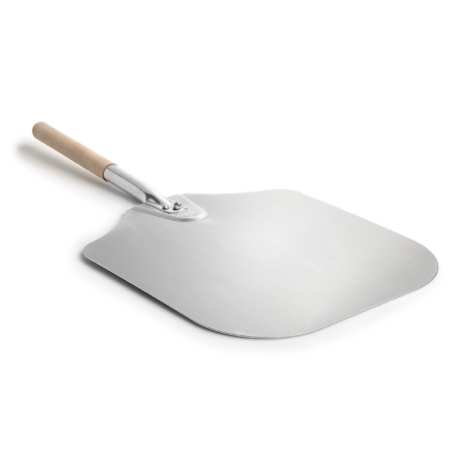 We need to fix the "solved problems" crisis in home health care.
Let me explain.
At the start of Health Foo* in December, everyone introduced themselves in 6 words or less. Row by row, person by person, 100+ people talked in turn. In the back row, nearly the last to speak, Laura Baldwin stood and said, simply, "Dignity at the end of life." I made a beeline to introduce myself.
She shared that she is a caregiver for her father, who has Alzheimers and requires constant, intimate care, including diaper changes. She described how difficult it is to turn over a 6 foot 3 inch man in bed, particularly for her mom, who is just 5 feet tall.
One evening, a friend came for a visit to help out. He watched as Laura struggled to turn her dad and then said, "Wait, I know what you need — a baker's spatula."  He brought one over and showed Laura how to slip it under her dad and gently lift, using the leverage of the long handle to start the turn that she can't manage on her own. It was a revelation.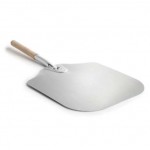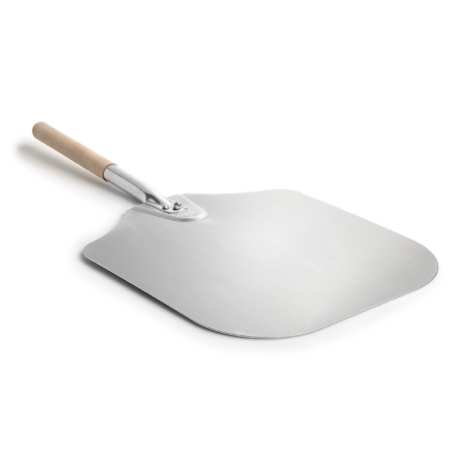 Laura was so excited, she shot a quick video of how to use the spatula so her sisters could benefit when they came to care for their dad. They weren't happy about the video — it showed their father in such an undignified position — but they were glad to learn the new trick.
When Laura told me this story I was reminded of the conversations I'd heard at a Moebius Syndrome conference, where parents shared tips for coping with children with facial paralysis and less-than-dexterous hands.
One mom lamented that she'd gone months before coming up with an idea to cut a hole in her baby's onesie for her feeding tube, eliminating the uncomfortable, wrinkled t-shirt problem that was waking her up. She learned later that it was a well-known trick, but nobody had told her to connect with other Moebius parents and so she'd never learned it. Another known hack is to stick a pen through a tennis ball or a rolled-up wash cloth so someone with dexterity challenges can write.
I have heard many such stories of peer-to-peer home health instruction, particularly among the 39% of U.S. adults who are caregivers, so I asked Laura if she'd run a session with me on "hacks for caregivers."**
The next morning, in front of a room full of people who have been, are, or intend to be caregivers for family members, Laura and I started talking about how many home health care tricks are out there, un-shared, un-publicized, and not spreading as quickly as they should.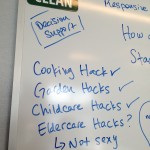 We filled a white board with examples and ideas. What I hope to do now is share some of those notes and continue the conversation, since the one-hour session was not enough time — and many more people have ideas than could fit in that room.
Should there be a sort of "petting zoo" of home care technologies? Or a library model, so people can borrow things to try them out at home?
What if, when someone searched for answers to a known health problem, just-in-time ads served up guides written by people dealing with that too?
How about creating a stackoverflow.com for health? (As Rajiv Mehta explained to me: It's a peer-to-peer Q&A site for programmers that is not limited to any particular programming language. The issue someone may be struggling with is likely general, not just a question of Java or Perl. As in health care, where we see online communities often divided by condition, people need a place to gather to discuss overarching questions.)
The role of a curator or a documentarian is potentially very, very important. (Again, as Mehta explains: In hobbies like cooking or gardening, the fun sometimes comes from exploring and discovering. Caregivers do not have this luxury. We are already at our wit's end.)
What is the role of the mainstream media? Could Good Morning America or the Today Show feature an "eldercare tip of the day"?
Could there be an @instructables or Cool Tools for home healthcare? How about a lifehacker.com focused on caregiving? Or a print catalog for old-fashioned or newfangled home health care tricks and tips?
What can we learn from the village-to-village movement?
Since Health Foo ended, I've continued to see examples of people hacking home care solutions, such as this
Diabetes Lifehacks
post by Kim Vlasnik and this
New York Times profile
of the Little Devices lab at MIT. Then there was this tweet:
We no longer have a stander because Sig had developed past needing it pre-cast, so a hack. pic.twitter.com/TZ5a5PQxR6

— Christy Collins (@_chrisco) January 2, 2014
When I wrote to Collins to get permission to use the photo, she explained, "That hack of having Signe stand up against something is so obvious to me now, but I never thought of it until I met another mom of a slightly older child with M-CM and she suggested it. We met at a very small meet-up, she drove to Saratoga Springs from Canada to meet about 6 other families at a state park. We all knew each other from an online community."
These stories make my hair stand on end.
People's lives are significantly improved by these simple hacks, shared by a peer or a professional, too often by chance or happenstance.
Now: my request. Let's gather ideas. Let's scale this.
Please share your ideas about how we can help spread "solved problems" in home health care.
Are there organizations already doing this and I just don't know about them yet? What's the best way to connect people — the makers and the people who want to promote their work?
All ideas welcome in the comments.
___________________
* Health Foo is an event hosted by O'Reilly Media and the Robert Wood Johnson Foundation. The agenda is created on the spot by the attendees.  For more background, read my post on the first Health Foo.
** "Hack" is used here in the original sense — that is, "an appropriate application of ingenuity."
2018 update: The conversation around this post led me to start the Invent Health Initiative when I was the Chief Technology Officer at the U.S. Department of Health and Human Services. I maintain a list of examples of "home health hacks" and other ingenious medical and assistive device solutions on Wakelet.