Quantified Self Public Health is back! 150+ health geeks of many stripes will gather on Thursday, May 14, in San Diego to discuss how access to personal data could benefit individuals and society.
It is an invite-only meeting (sorry!) but filled with voracious documentarians like Joyce Lee (read her Storify from last year) and, well, me (read my round-up post, which also links to others' blogs). Follow the tweets on the #QSPH hashtag, too.
Observations and conclusions from last year's QSPH event were captured in an in-depth report (PDF) and in a series of videos. Here is one of my favorites: Ian Eslick's talk on the role of personal experimentation in the medical and scientific process:
This year it will be my privilege to interview Don Norman, a design pioneer, on stage.
To prepare, I've been reading sections of his books, The Design of Everyday Things and Emotional Design, and watching talks like this one:
I was struck by three themes of Norman's approach:
1) Solve the correct problem.
My reaction: Boy, does health care need to grok this point. I can't wait to ask him how to recognize when you've dug deep enough into the roots — and what tools to use to get there.
2) Pleasant, attractive things work better.
Reminds me of Michael Graves's tart review of his hospital room: "I can't die here. It's too ugly." And then he went on to make hospital rooms more beautiful and functional.
3) There is no substitute for direct observation of and interaction with the people who will be using the product.
Yes! I couldn't agree more. Participatory research *must* come to health care.
Read the full quote from Chapter 6 of The Design of Everyday Things, and, as a thought experiment, substitute "natives" for "patients":

This point reminds me of conversations I've had with people who design communications for HIV clinical trials. They need to use "one voice with many inflections" — that is, one set of facts, but tailored to the population they are targeting, such as sex workers in Thailand vs. Peru.
Switching gears…
A key element of the QSPH meeting is that it will be populated by toolmakers and tinkerers. People who make and hack their way to insights about health. So I'm also reading Mark Hatch's book, The Maker Movement Manifesto.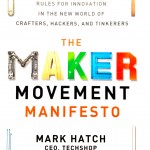 One of my recent obsessions is the health innovation that is happening at home — the hacks, tips, and tricks that regular people invent to make their lives better. Some are simple, like using a baker's spatula to turn a large person in bed or sticking a pen through a tennis ball so someone with low dexterity can write. Some are more complicated, like the Do-It-Yourself-Pancreas-System or the Auvi-Q epinephrine injector (both created by people living with the conditions being addressed).
How might we harness the energy of all the people who are making a way out of no way, every day, in health care (that is, patients and their loved ones)? How might we empower them with data and resources? How might we learn from them, and them from us?
Please let me know if you have a question for Don Norman. I know our time will go very quickly, but I want to squeeze as much as I can into the conversation!