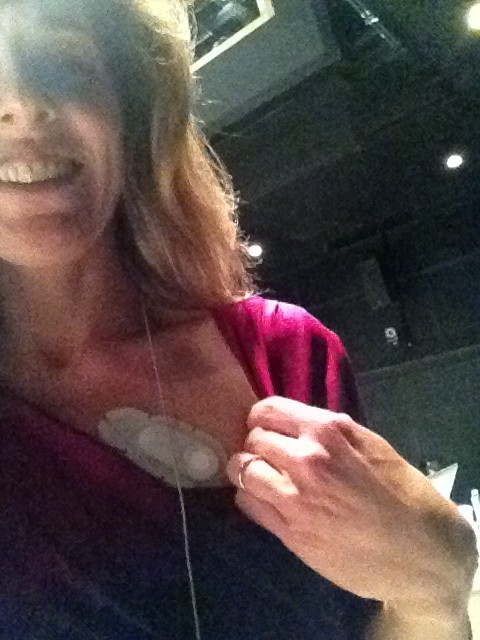 On April 3, I was part of a symposium organized by Bryan Sivak, CTO, U.S. Department of Health and Human Services; Larry Smarr, Director, Calit2; and Gary Wolf, Director, Quantified Self Labs, where I presented the Pew Research Center's findings on tracking for health. I uploaded my remarks in a separate post — this one is more of a "notes and impressions" download.
About 100 researchers, policy makers, designers, and toolmakers were invited and the only problem I had was that I wanted to talk to each and every one. I couldn't sleep either night I was in San Diego because my brain was buzzing from the stimulation of so many geek-alikes in one place.
Joyce Lee was one heroic live-tweeter on the #qsph tag — you can check out her Storify for highlights. Maarten den Braber is another scribe to check out, since he brought a European perspective to an otherwise US-dominated event. Roni Zeiger's blog about Larry Smarr's presentation is a must-read: "I have the problem in my grasp."
A few highlights from my own notes, following the Chatham House Rule (but if you said it and want to claim it, please let me know):
Data can often power a discussion, not a diagnosis, and therefore a data-collection device or application should not need FDA approval.
We need to keep in mind the challenges of representation in data sets, particularly if we want to use them for public health discussions. For example, RunKeeper has thousands of users in the Boston area, but none in Dorchester.
Calculating one's physiologic age vs. chronologic age is a measure of wellness and can be a very motivating vector.
One institutional review board (aka IRB) recently changed their policy at the request of a researcher who wanted to return data to the study participants. That's the good news. The bad news is that it is one of the oldest standing IRBs in the U.S. and no researcher at that institution had ever thought to give back to the patient community or include them in the research process before.
Instead of handing a patient a prescription, how about handing them a decision tree? That is: Try X, but if you don't see positive change within a week, try Y. If still no change, try Z.
We need a "ForgetBit" — something that lets you update your FitBit data because you forgot to put the dang thing on before you went running, walking, etc.
We are currently data-rich, but analysis-poor.
Two very different views of contests and hackathons emerged: one clearly enthusiastic about them as a way to jumpstart a project or new thinking about a topic; another clearly skeptical, particularly if the project relates to big hairy (expensive) problems like global health or clinical trials.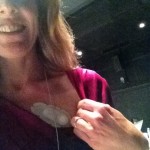 My personal self-tracking is minimal, but got supercharged thanks to Steve Zadig, a co-founder of Vital Connect, who put a Health Patch on me and a few other presenters in order to track our heart rate, respiratory rate, stress level, and a few other metrics during the day.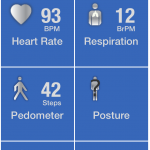 I'd just pounded a good, strong cup of coffee so I wasn't surprised that my heart rate was high. I also felt a good kind of nervous about addressing this stellar crowd, so my stress level was also elevated.
Once I took the stage, the app showed that my heart rate went up to about 150 BPM and my stress level stayed in the 90s except for two significant dips. I asked Steve and he said I probably paused to take a deep breath at each of those moments. I do remember thinking, "I'm talking too fast" and consciously slowing down — it was neat to see the data reflecting how my body was reacting to the stress and to my ameliorative pauses.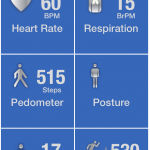 About an hour later, I checked in again and found that my heart rate had slowed considerably and my stress level had dropped way down. Steve Downs, who was also wearing a patch, showed me his read-out — stress level down to 1%! — so I sat there trying to breathe deeply and get mine down. Personal best: 4%. Steve is the Zen master of this round.
I stopped tracking it closely as the day went on but I'm pretty sure my stress level was at its lowest when I kicked off my shoes, rolled up my jeans, and watched the last rays of sun dip below the Pacific. Sand between toes = deep breath x 100 (approximate calculation).
If you have comments, questions, or observations, please share them below.