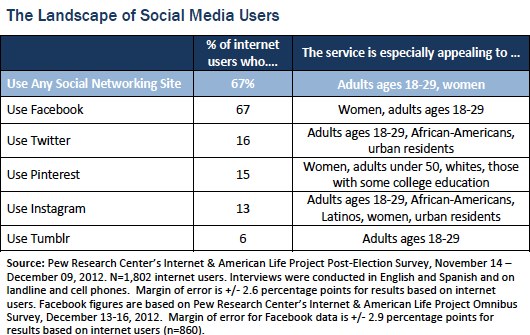 I'm re-sexifying the top of this post since it's so long and I want people to get these key take-aways (read on for details on each one):
Expect clinical trial participants to share news with their networks. Plan accordingly.
Make your information attractive and share-able where people already are, on Facebook, Tumblr, Pinterest, etc.
Find your local Lady Gaga.
New Coke is a model for what not to do when engaging a community.
"Re-sexify" a repetitive message because there are some things you can never say enough.
Integrating a new social media tool is like having a new employee, it's that much of a productivity hit.
I participated in the National Institutes of Health's HIV/AIDS Clinical Trials Networks Communications Symposium on May 9, 2013, sharing Pew Research data about internet and cell phone use across the globe and, in particular, how people in the U.S. gather and share health information, online and offline.
My notes from the discussion are below, but I make no claims about them other than I wrote down stuff I was curious about or thought would have universal application:
"The moment you tell one participant, the race is on to tell the rest. They want to hear the news from clinicians."
The first presentation was a riveting tick-tock of how the HVTN 505 HIV Vaccine Regimen Study announced that they were ending the administration of injections. "Dear Participant" letters were sent out and almost immediately posted on personal blogs, Twitter, and the clinical trial wiki. Unfortunately the wiki update by a participant contained an error — "the joy and the discomfort of openness." There was no "media" leak in the traditional sense, but there was a wiki leak (yes, that got a laugh), so they stuck with the planned schedule and did not rush out the press announcement because it was contained within the community.
Lesson: Make rapid response to participants part of the study protocol. Expect people to share with their networks. Monitor every channel and have multiple contingency plans.
One voice, many inflections.
Amy Ragsdale, the meeting organizer, then introduced me and it was like getting on a high-speed elevator to the top of the Empire State Building: we went from a street-level case study to a global view of the health communications landscape. Amy came up with the title for my talk, which I love since it captures the main idea of public health messaging: one voice (ie, the facts, the best science available) many inflections (help and encourage people to share those facts in their own ways, with their communities):
[slideshare id=20820734&doc=pewresearchinternethealthglobalmay2013-130508152006-phpapp01]
I think one of the key take-aways from my talk, based on the discussion, was that HIV clinical trial communications about treatment should still focus on outreach to clinicians since Pew Research data show that MDs and RNs are still the #1 source for that type of information. But communications experts can also take heart in the fact that they can use the "many megaphones" approach when it comes to outreach, education, trial recruitment, and other activities.
Amy shared an important distinction during the meeting and captured it in a follow-up email:
The HIV prevention world confronts different challenges and opportunities than the treatment world. In prevention, we reach out to those who generally don't think of themselves at risk and don't have the immediate need of clinical care. Health messaging to "healthy" people requires a different approach – especially when engaging them around recruitment into a trial.
That is a significant challenge that I'd love to crowd-source a bit — if you have ideas or amplifications to share, please do so in the comments below.
A first step is to be sure that your information is share-able on the platforms your target audience is using. Here's a table I should have included in my slides, but didn't: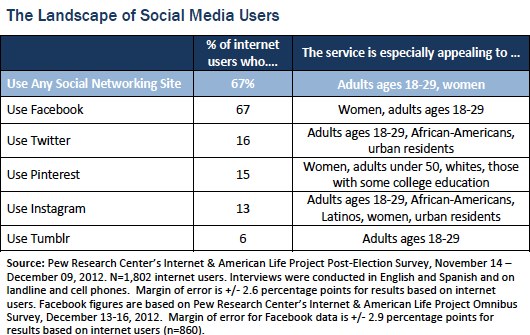 (Note: this is why I love social media — the conversation is never over.)
Meeting participants were disappointed that I didn't have data from East or South Africa to share, but my colleagues in the Pew Global Attitudes Project tell me that we will have that data soon. Meantime, we heard stories about fieldworkers in Zimbabwe, Malawi, Zambia and other countries trading Facebook messages, not email, so there are indications that the social networking wave affects those countries' health communications, too.
I wish that I had emphasized the "listen more than ask" aspect of the new media (and new research) landscape, but I think the other presenters hit those points better than I could have, anyway. This is a group of people with deep ties to both research communities and the patient/caregiver communities.
Joe Camel used to own the airwaves and we had few tools to combat his hold on kids. That's no longer true.
That was a comment from one of the participants, along with her observation that there are now many voices, many airwaves, many megaphones. A tweet from Lady Gaga — or the Lady Gaga equivalent in a micro-community — can be influential. Find the Lady Gagas in your community. Leverage what your community is already doing, for example, the Asian & Pacific Islander American Health Forum created a fun video about open enrollment that other organizations are now using:

However, it's difficult to predict what will be hit. For example, a rectal microbicide how-to video may be a dud in one country, like Peru, but a hit in another, like Thailand. Is it because of faster internet connections? Higher interest? Better outreach on-site? It's unknown, so the current strategy is to continue to generate accurate, compelling messages and test them in different markets, in different ways.
Advertising about a clinical trial is considered recruitment, which is considered informed consent.
There was a technical discussion about clinical trial recruitment and when to involve an  Institutional Review Board (IRB). The bright-line rule: no "ask" means no need for IRB approval. But social media introduces complexity: currently, a piece of paper triggers IRB review. If you read all the contents of that piece of paper to someone but don't hand it to them, no IRB approval is needed.
New Coke is a model for understanding how people will integrate a clinical trial protocol into their lives.
Coca-Cola missed that there is a culture of Coke drinkers, just as clinical trial investigators  can sometimes miss the culture of sexual practices and preferences in the target population. It wasn't that the product was so bad, but rather, the company did not respect their audience enough to talk with them first and understand how they might need to change the protocol.
Lesson: Engage the community early. Have community members on the research team.
Community-level messages about HIV clinical trials should be simple, straightforward, and sexy.
It is a significant challenge to balance enthusiasm, expectations, and outcomes. How to communicate about a clinical trial that hasn't cured HIV, or even solved a problem, but at least has moved the field forward? Maybe: "It is a good thing the trial was stopped because it means we learned something and are ready to share." Redefine failure, help people understand basic research literacy. Sell, but don't oversell, hope. "Re-sexify" a repetitive message because there are some things you can never say enough.
Some of these lessons can be translated to press strategy. Reporters who want to cover a clinical trial as a "win" or a "loss" need to be educated about the scientific process of discovery.
"Integrating a new social media tool is like having a new employee, it's that much of a productivity hit."
This was a quote from the discussion at the end of the day, after we heard a smart presentation about evaluating the return communications investments of social tools along the lines of site recruitment, scientific publications, lay press, public health interest, etc.
The "something shiny" syndrome is familiar to everyone, which is why I appreciated the discussion about how to leverage existing content and make it easy to share. You don't have to be on every platform; you want your information to be available there. I likened it to developing new muscles and using them in different ways — the blog muscle becomes the Tumblr muscle becomes the Whatever's-Next muscle. Make it easy to share. In other words: one voice, many inflections.
All in all, it was a day devoted to working on stuff that matters and I was honored to contribute.