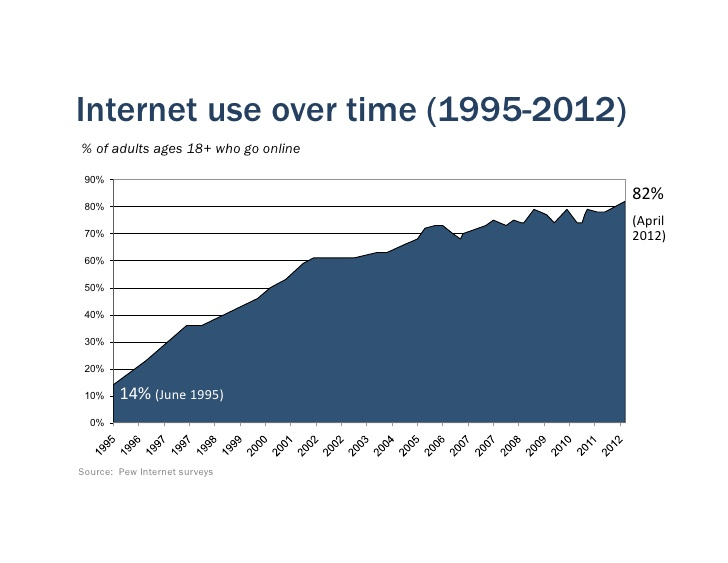 The 19th International AIDS Conference, held this week in Washington, DC, included a session entitled, "The State of New Media and HIV," hosted by AIDS.gov. My role on the panel was a familiar one – to present the Pew Internet Project's latest research about mobile, social technologies and their impact on health and health care.
But it was an evening session, after a long day, so the organizers asked each panelist to create an "ignite" talk: 20 slides which advance automatically every 20 seconds. It's kind of a pell-mell style of public speaking, conducive to improvisation and fun.
I decided to share not only our national story, but my grandmother's story, as an example of how one person can adapt to technological change.
Here's what I said:
Tonight I'm going to share some history with you. And history, in internet terms, means that I'm going to talk about the 90s, when very few people used the internet.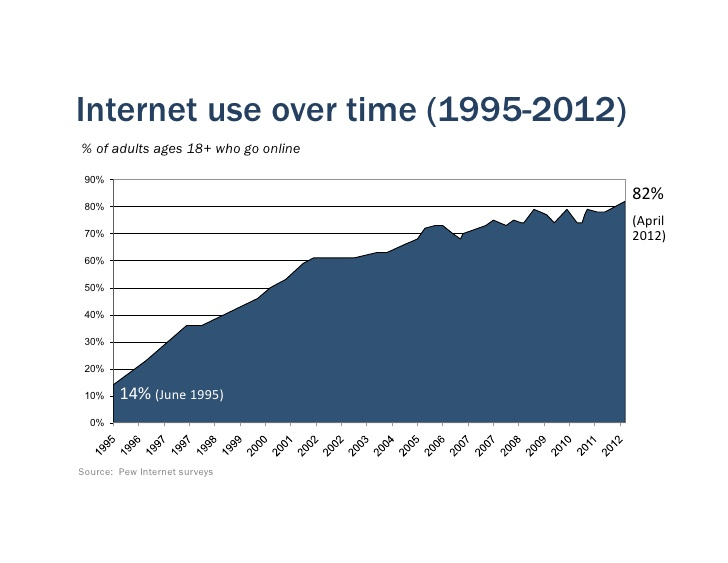 Back then people in positions of power were likely to dismiss the internet as something happening elsewhere, to other people. Nerdy, geeky people.
But those people disrupted industries like journalism, travel, music, and book publishing. The internet forced them open and people stopped laughing about the internet's potential.
What about health care? Health care has been amazingly resistant to communications technology. But being offline is now an orphan disease.
Maybe you've seen an organization or an industry struggling with new media. Or maybe you're not so sure about it yourself.
To you I offer my grandmother's story. My mother's mother pursued knowledge and communications like they were competitive sports.
In the 1970s, she had a CB radio. In the 1980s, she had one of the first Apple computers. And in the 1990s, she was on AOL.
She accepted the squawks of the CB and modem like a craftsman accepts the tools of his trade – alert to improvements, but thriving in the meantime.
The first time I showed her the Web, in 1995, she leaned forward to peer at the screen, but then slumped back in her chair, deflated. I worried that I hadn't shown her what was possible. On the contrary.
"I was born too soon," she said. My grandmother – information maven, social connector, wicked wit – was a natural for the internet but, at age 85, already nearing the end of her life.
My work these days focuses on the social impact of the internet here in the U.S. Our research documents that 88% of U.S. adults own a cell phone and 82% of U.S. adults use the internet.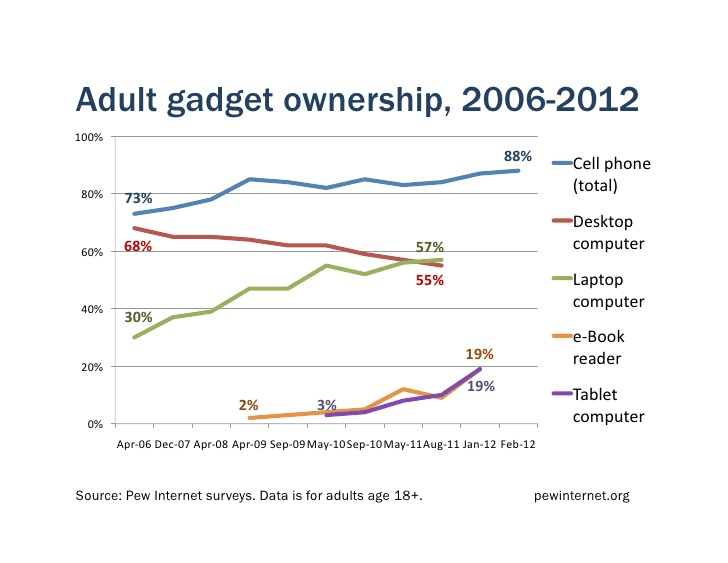 Not everyone has every gadget, but mobile technology is sweeping the U.S. and making it more likely for us to share and contribute to the online conversation.
Young people are especially likely to have smartphones. And they are especially likely to share, to create, to contribute, and to learn from each other.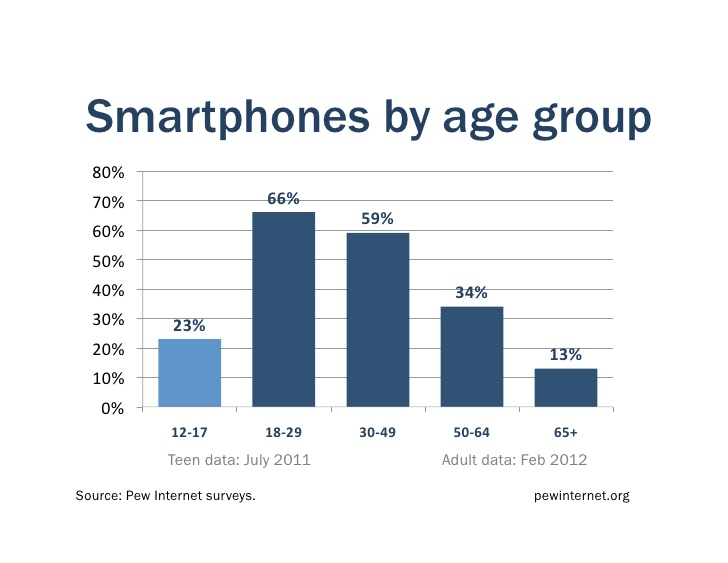 In health care, this sharing takes on special meaning.
One in five online adults have gone online to find someone who shares their same health condition, someone just ahead of them on the treatment path who may be able to give them advice.
One in four internet users with a chronic condition have looked online for "someone like me."
Studies show that people who are connected to a peer group of other patients are more likely to understand their diagnosis and stay on their meds.
Ask yourself:
What are you doing to help people find information?
What are you doing to help people find each other?
A recent survey conducted by the National Minority AIDS Council shows that HIV organizations are using the web for public information campaigns and to encourage behavior change. What more can you do to make the information mobile and social?
These days I'm more likely to hear nervous, not derisive, laughter when I talk about the internet's impact. Forgive me if I dislike both. I was spoiled by my grandmother's reaction in 1995.
The moment she understood the internet's potential, she didn't laugh. She turned somber. She foresaw how it would change the world.
My grandmother was wrong about one thing, though: it wasn't too late. She lived 10 more years and used the internet every day. When she died at the age of 96, her last words were, "Erase my email."
May we all live a life of intrigue and curiosity, right to the very end. May we all take advantage of the tools we have on hand, but stay alert to improvements.
Let's not laugh at new developments. Let's try to understand them.
We all have something to learn. We all have something to teach.
Video of the entire program is now available (my bit starts around minute 12):