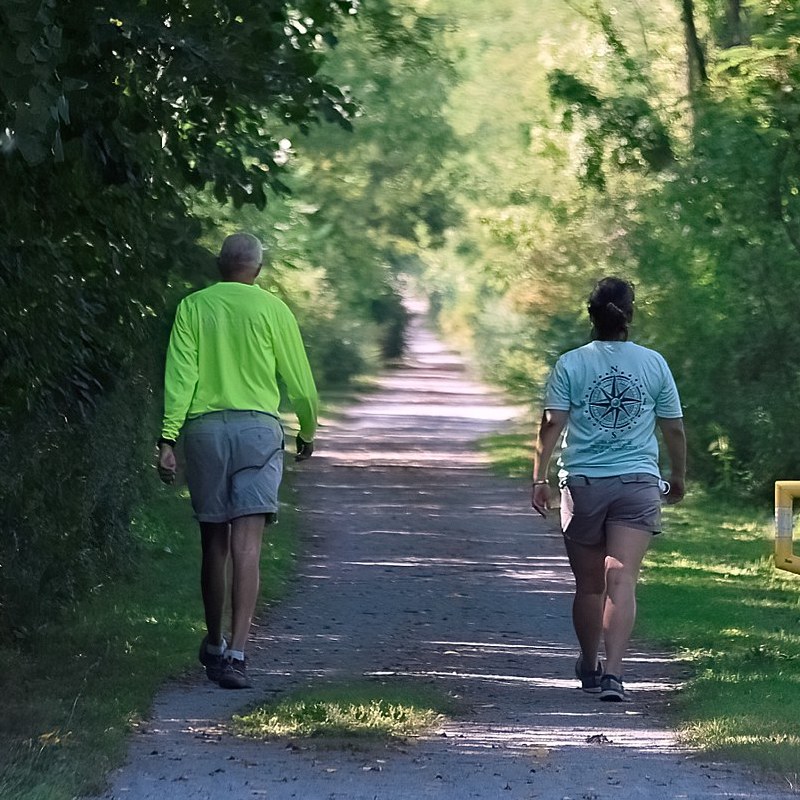 Cancer patients were among my first peer health innovation teachers and remain, years later, among my favorite communities to follow. I keep an eye out for hashtags like #gyncsm (gynecological cancer social media), #bcsm (breast cancer social media), and #lcsm (lung cancer social media) on Twitter. I listen to podcasts like The Cancer Mavericks (and pretty much anything Matthew Zachary produces). I also tune in to any discussion of the Unmentionables of health care I can find (like when Alexandra Drane invited Dr. Leslie Schover to teach Health 2.0 conference attendees about how cancer treatment affects sexual function).
My latest source of insights is Elizabeth O'Riordan, a breast surgeon with breast cancer and co-author, with Trisha Greenhalgh (also a clinician and breast cancer patient) of THE COMPLETE GUIDE TO BREAST CANCER (2018). O'Riordan's latest article, "It is the Little Things That Matter," about the lessons she learned as a patient about breast cancer treatment is fantastic — and happily, there is a free PDF available (for now, anyway).
If the PDF disappears, here's an image of her closing argument: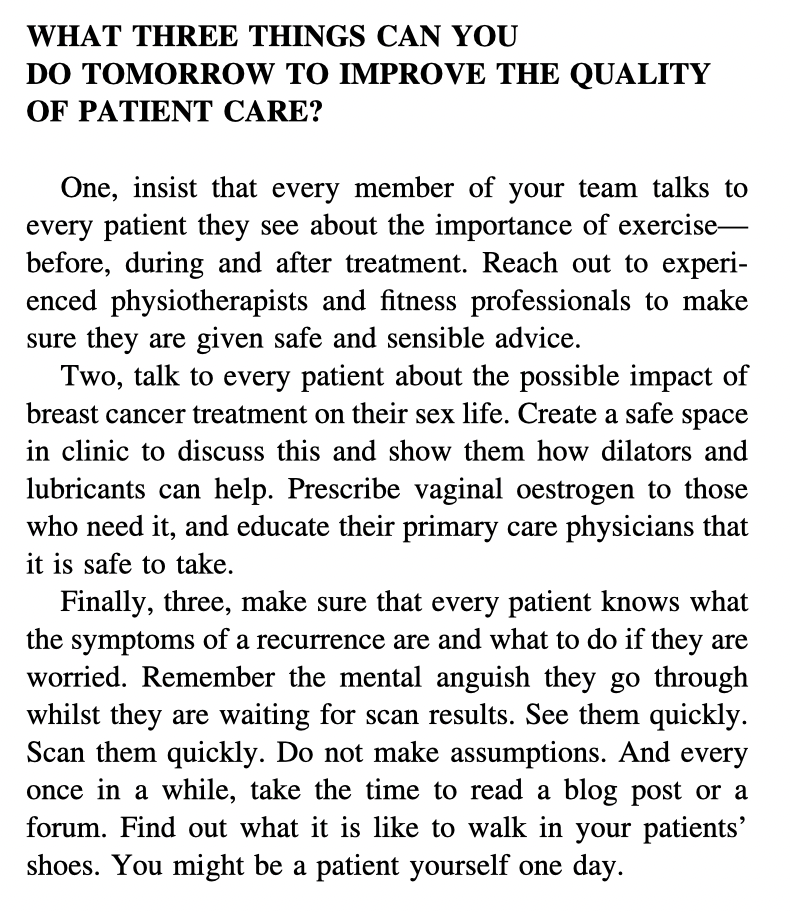 Again, I loved the article. And I hope it gets the attention it deserves from the intended audience — surgeons of all specialties, but particularly oncology.
But wait, I thought. Hadn't I heard all three of these suggestions before? Aren't these among the perennial topics discussed peer-to-peer among cancer patients? And O'Riordan's suggestion to her clinical colleagues to "every once in a while, take the time to read a blog post or a forum," is a good one, but which blog post? Which forum?
What if we could create a welcoming, public, international, cross-disciplinary community made up of everyone affected by breast cancer? What if we could use it as a jumping-off point for academic research, community organizing, and advocacy training?
Great news! That community exists.
The #bcsm community is one model for how to create what Jodi Sperber calls "cross-peer interaction" — conversations between and among people of differing status, ability, or rank (meaning: patients, caregivers, clinicians, scientists…) I recently re-read Sperber's dissertation, Patient Driven, Patient Centered Care: Examining Engagement within a Health Community Based on Twitter, and was struck by how perfectly her findings capture the nuance and magic of peer health innovation and, specifically, #bcsm.
Sperber writes about how the creation of the hashtag community was a peer health innovation in and of itself. Inspired by Dana Lewis's #hcsm (health care social media) community curation, Alicia Staley and Jody Schoger hosted the first #bcsm Twitter chat on July 4, 2011. Dr. Deanna Attai, a breast surgeon, later joined as a co-moderator, making it a patient-led, but clinician-partnered, community. A 2015 survey of the #bcsm community found that participation lowered people's anxiety and increased their overall knowledge of breast cancer.
Since then #bcsm has created what Sperber terms "microspurs" (relationships that form as a result of community participation). For example, the founders of multiple organizations drew energy from their participation in #bcsm: GRASP (Guiding Researchers and Advocates to Scientific Partnerships), the Tigerlily Foundation, and COSMO (Collaborative for Social Media Outcomes in Oncology). The #gyncsm, #lcsm, and #btsm (brain tumor social media) communities were inspired by the #bcsm example. And the Metastatic Breast Cancer Project partnered with the #bcsm community to publicize its work and recruit participants.
Matthew Katz, MD, Staley, and Attai collaborated on a history of #bcsm last year that chronicled the community's accomplishments, its failings, and the dangers of burn-out. How might pioneering peer health innovators be better supported? How might we translate what #bcsm has learned about patient care into lessons that more clinicians can absorb?
Beyond reading academic journal articles and dropping into a patient forum "every once in a while," what are some other ways for clinicians (and others) to learn about the insights hatched in other peer patient networks? Where else have you seen successful examples of cross-peer interaction?
Please let me know what you think in the comments below.
Image: Walking the Black Diamond Trail, by Jo Zimny Photos on Flickr. I thought it was a good capture of both the advice to exercise during treatment AND to walk the path of the patient with them.