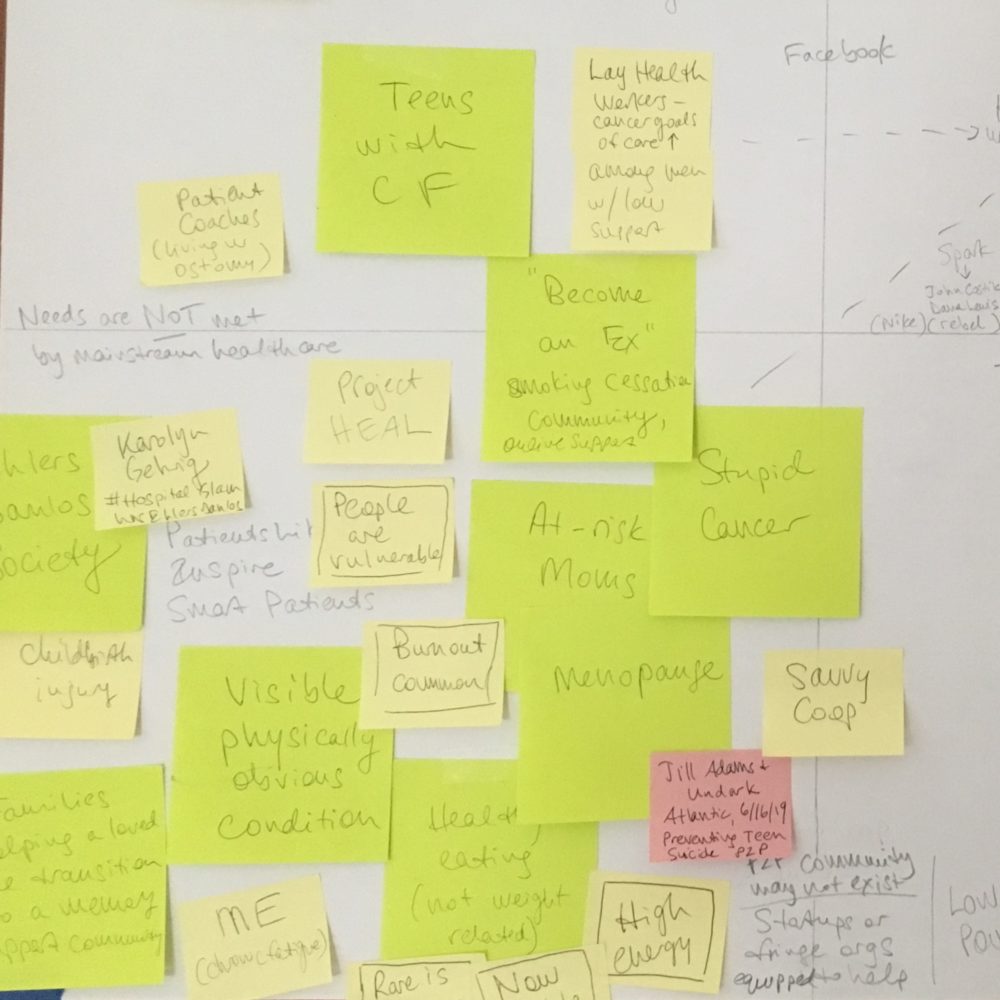 Amy Gleason (@ThePatientsSide) captured this line of mine, delivered on a panel at the Health Datapalooza yesterday. Her tweet generated an interesting cascade of reactions ranging from: "This is potentially dangerous" to "This is obvious (and old news)." I thought I'd expand on my observations and see if people want to expand on theirs in the comments.
First, this IS an old idea and not original to me. It was planted in my head by Tom Ferguson, MD, in 2001 and then nurtured throughout the early 2000s by pioneers like Danny Sands, Terry & Joe Graedon, Dan Hoch, John Lester, Alan & Cheryl Greene, Gilles Frydman, John Grohol and others back in the day. Famously, Danny gave E-patient Dave an actual piece of paper with "ACOR.org" written on it in 2007.
Second, I attend conferences is to be introduced to new ideas and to test the validity of old ones by saying them out loud in a crowded room. I only wish our panel had been recorded so we could capture all the great insights that were shared by David Fajgenbaum, Bon Ku, and our colleagues in the audience.
Third, in case anyone had any doubts: People seeking, finding, and creating peer health advice online is an unstoppable trend that I've been tracking for (yikes) 20 years. Here's my research page if you'd like to dig in.
Fourth, a huge cottage industry of peer-to-peer health communities has sprung up whether anyone likes it or not. There are Facebook Groups, Reddit threads, and Twitter hashtags. There are glossy, corporate-backed platforms. There are old-school forums and list-serves. Some peer communities pop up for an event or acute situation, others sustain over many years. All of them ladle out support, many engage in discovery and problem-solving, some are saving lives. And there is a growing body of literature mapping and measuring the impact of peer-to-peer health.
But peer health advice and connection still hasn't tipped over into the mainstream, which I think will happen when clinicians recommend it to their patients (Paul Wicks warns that "one day, it'll be malpractice for a newly diagnosed patient not to be connected to 5-10 other patients like them in the first 12 months.")
I'm working on a model to try to explain this phenomenon to people just tuning in and my office walls are covered with my hand-drawn diagrams of dyads and examples. We suffer from a glut of great stories but no map.
In the spirit of crowd-sourcing questions, not answers, I'd like to share a few of the ways I am stretching out the tangle. Where along these spectrums does YOUR favorite peer health community fall? What dyads do you suggest adding?
Acute, fast-moving, even emergency situation <—-> Chronic, even life-long condition
Temporary community <—-> Long-term community
People's questions are NOT being answered by mainstream health care <—-> People are well-served by mainstream institutions
Data about the condition is excellent and available to share <—-> Data is non-existent, incomplete, not shareable
Treatments are well-known to be safe and effective <—-> Treatments are seen to be risky
Home care is at the center of the patient experience <—-> Care delivery happens in a clinical setting
Solutions are low-tech <—-> Solutions require advanced tech
Now: your turn. Comments are open.
Note: I try to remember to use the inclusive term "clinicians" so I updated the title of the post to reflect that, instead of the original "doctors."
Featured image: The most crowded and fruitful quadrant of all the 2×2 diagrams in my office.