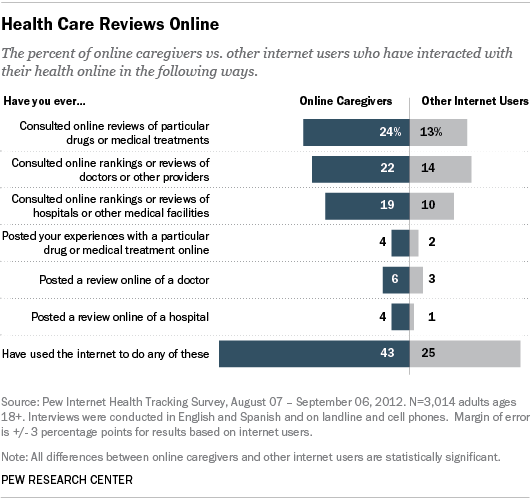 Stefan Biesdorf and Florian Niedermann of McKinsey wrote an excellent essay laying out 5 myths about health care and technology. It rings true so I decided to add my own evidence to their points:
McKinsey Myth 1: People don't want to use digital services for healthcare
Pew Research has found that looking for health information is consistently among the most popular online activities in the U.S., a trend dating back to 2000, so there's no question that this is a potentially huge market. Biesdorf and Niedermann make the point that there is a gap between consumer interest and uptake of digital health services because current offerings are poor quality or don't serve people's needs.
I think the OpenNotes movement and Kaiser Permanente's experience with opening medical record access to patients are two myth-busting examples. If you give people access to high-quality services, they use them.
I think the gap in the current health care consumer reviews market illustrates the inverse point. Eight in 10 internet users say they have looked at reviews of a general product or service online. By contrast, only about one in five internet users have consulted online reviews and rankings of health care service providers and treatments. This is an unmet need in digital health, particularly among caregivers: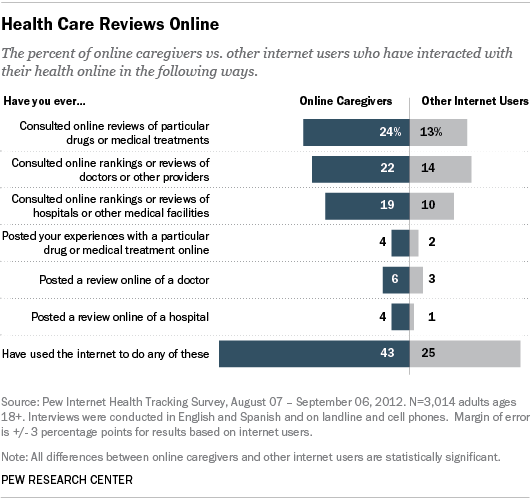 McKinsey Myth 2: Only young people want to use digital services
This myth depends on your definition of "young." There are still differences among age groups when it comes to internet use and health, but they are shrinking. A January 2014 Pew Research survey found that 87% of all U.S. adults use the internet, including 88% of those ages 50-64. Looking only at those age 65+, however, we find that just 57% go online.
Age is still a good predictor for someone's likelihood to look online for health information: 72% of adults ages 18-29 years old did so in the past year, as did 67% of adults ages 30-49, compared with 54% of those ages 50-64 years old and 30% of adults age 65+.
However, we did identify a "diagnosis difference" in our data which bodes well for digital health services among older adults with chronic conditions (the majority). That is, when controlling for age, income, education, ethnicity, and overall health status, internet users living with one or more conditions are more likely than other online adults to:
Gather information online about medical problems, treatments, and drugs.
Consult online reviews about drugs and other treatments.
Read or watch something online about someone else's personal health experience.
McKinsey Myth 3: Mobile health is the game changer
I have been beating the mobile drum for years, warning of a seismic shift in terms of information access and communications. I'm in good company (see Eric Topol's HIMSS13 keynote) but I also see the wisdom in guarding against "mhealth hype" as Dave Clifford has put it. I appreciate how Biesdorf and Niedermann expressed this point: "Beware of solutions that could have a lot of impact but are not of interest to the segment in question—digital applications to manage chronic conditions typically found in older people, for example."
Pew Research studies have found exactly that — older adults and those living with chronic conditions are not likely to use health apps. For example, 7 in 10 U.S. adults living with one chronic condition and fully 80% of people living with two or more conditions track a health indicator, for themselves or for someone else, but only a tiny group use an app to do so: 4%.
As further evidence: in September 2012, we found that just 19% of smartphone owners had downloaded an app specifically to track or manage health. Women, those under age 50, those with more education, and those with an annual household income over $75,000 are more likely to have downloaded a health app. (Note: this data is aging fast. I'd welcome an update if you have new data to share in the comments.)
McKinsey Myth 4: Patients want innovative features and apps
Keep it simple. Meet people where they are. Never assume that what you are seeing or experiencing is everyone else's reality.  Look to data to give you a clear picture. These are my mantras, so this myth is my favorite of the five.
The Pew Research report, Tracking for Health, is the best evidence I can offer on this theme since it uncovers a massive market with unmet needs: people who track their health but who do so only "in their heads" or using paper and pencil, and therefore are less able to see patterns over time or share the data. See also: my essays on the Health Datapalooza and Quantified Self.
McKinsey Myth 5: A comprehensive platform of service offerings is a prerequisite for creating value
Don't try to boil the ocean. Instead of trying to rebuild your engine while it's running, build a sidecar that can solve a specific problem alongside the main system. These are the ideas behind SMART health information technology platforms, an effort to create a way for innovation to thrive in the current health care system (I serve on the advisory board).
Here, again, I couldn't agree more with the McKinsey analysts who write: "The first step is to understand what it is that patients really want and the best way to give it to them." Look to data to inform your decisions. Engage in participatory research. Listen, more than ask.
Now, if you have time, read the full essay on the McKinsey site: Healthcare's digital future. Then come back and tell me what you think — do you agree? Disagree? What other myths are out there and what evidence do we need to collect next?