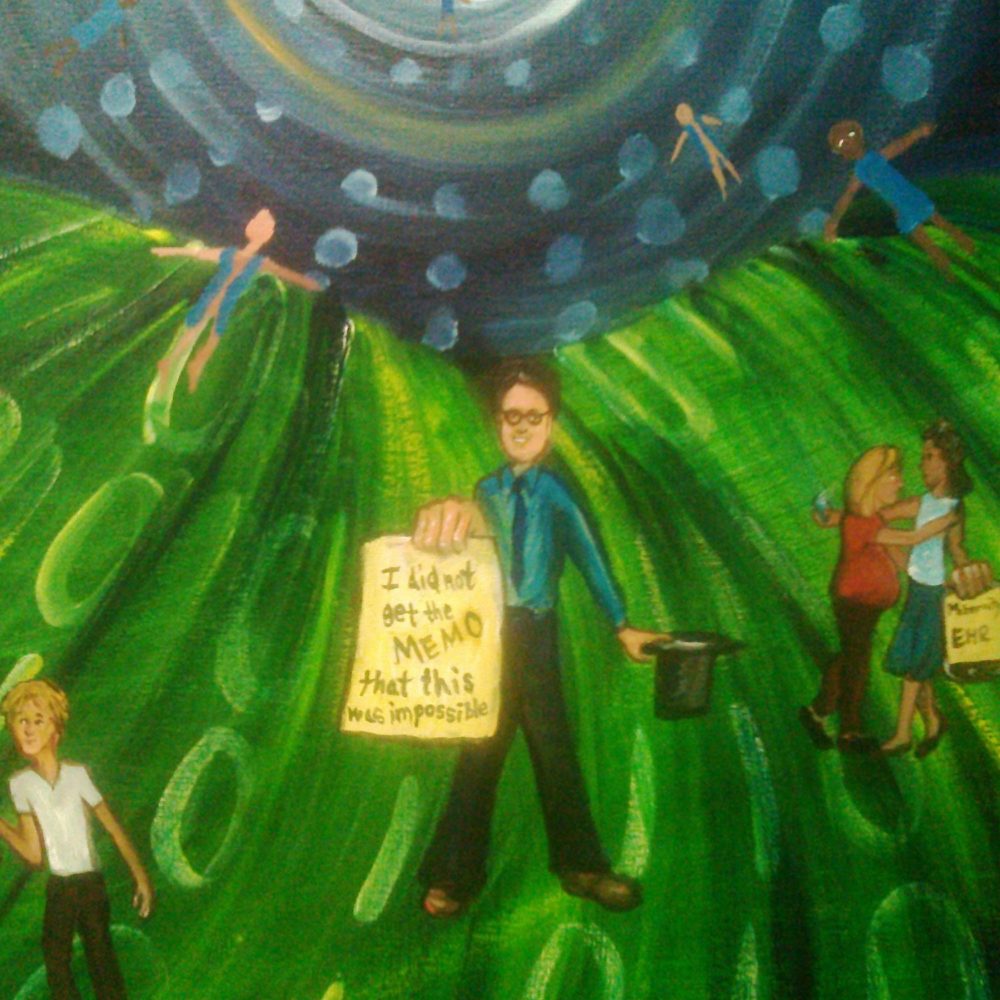 Here's a lesson I learn over and over again: Never assume knowledge. Don't waste your time making a point if you are not sure your audience understands the context for it. Or, as the wise Andy Kohut used to say, "If they don't get the premise, they won't get the joke."
Last year I spoke on a panel about health data interoperability. My co-panelists and I were asked to explain why health insurance companies should invest in the changes required by the federal government's new "final rule." On stage, we used plain language — no acronyms, no jargon — and I even found a way to talk about sandwiches and whisky to try to bring the concept home. I thought we did a great job.
A friend came up to me during the break, however, and said, "I'm sorry to tell you this, but nobody at my table understood your panel. Someone actually turned to me and said, 'What was that all about?'"
It is in that context that I urge you to read and share an excellent new report by my colleagues Rachel Tunis and Christine Bechtel: Leveraging Data-Driven Patient Participation to Accelerate Medical Research (FasterCures, Milken Institute; 2020).
From their introduction:
The fuel for biomedical innovation is data, and today we are generating more health and lifestyle-related data than ever before. These datasets hold enormous promise for biomedical research because they can be combined and analyzed using technologies such as artificial intelligence to produce new insights essential to improving overall health, building our understanding of disease causation, and potentially discovering new treatments and cures. Data-driven patient participation—the ability for anyone to contribute their health information such as electronic health record (EHR) data, biospecimens, and wearable data for research—has emerged as another tool for research entities seeking to make discoveries that advance medical research and improve care for patients. Further, it directly involves patients in biomedical research, allowing them to help speed its progress in disease areas that they care about, and helps patients engage in and have more control over their health care, which is known to improve health outcomes.
Tunis and Bechtel go on to make the case for why everyone — researchers, clinicians, citizens, policymakers — should not only understand but embrace these new opportunities to involve patients in the pursuit of answers. To convince people, they lay out the promise and the challenges (such as gaps in existing patient privacy regulations, lack of interoperability, and under-representation of historically marginalized populations, to name a few). And they profile five pioneering organizations: the All of Us Research Program, Fight to End COVID, PatientsLikeMe, Tidepool, and War on Cancer.
To those of us who have been working on this frontier for years, it's a "well, of course" assertion to involve patients. But that's why I love their report: We are not their audience. We are geeks. They are trying to reach (and teach) the mainstream.
Please click through to read the report (a 12-page PDF). Share it with all those who nod their heads but secretly aren't quite sure what you're going on about all the time when you talk about data-driven patient participation in medical research.
Disclosure: I am an advisor to FasterCures.
Image: "What Todd started," by Regina Holliday (2012). Description: A painting of a person holding a sign that says, "I did not get the memo that this is impossible" near two people embracing over a second sign that reads "Maternity EHR" as 1s and 0s race by underneath the scene. Todd Park, the first Chief Technology Officer for the U.S. Department of Health and Human Services in the Obama Administration, helped start a data liberation movement that continues today.