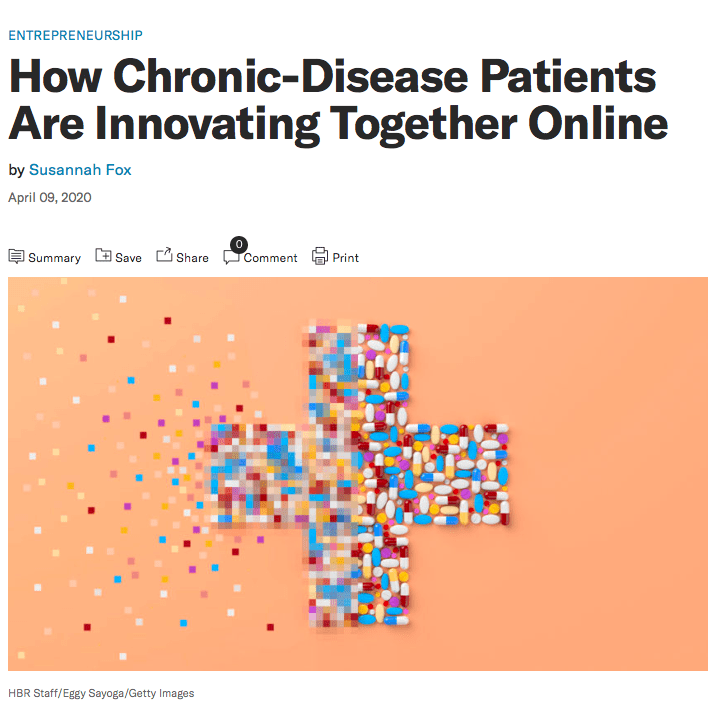 I am thrilled to share this excerpt from the Harvard Business Review article I wrote, "How Chronic-Disease Patients Are Innovating Together Online":
The internet gives us virtually unlimited access to each other. That deceptively simple insight is an untapped opportunity in health care. When companies are searching for their next idea, they should look to the online communities of patients who are working to solve their health care challenges on their own.

Young people lead the way: 51% of U.S. adults ages 18 to 22 years old say they have looked online for people with health concerns similar to their own. Eight in ten were successful, mostly finding each other through search, YouTube, and other social platforms. And when asked to think about the most recent time they found health peers online, 91% of young adults said it was helpful. The benefits of such connection seem intuitively obvious and have been confirmed in academic studies. Yet, as I've seen in my work both in the private sector and as a former chief technology officer in the U.S. Department of Health and Human Services, peer-to-peer health networks are largely being ignored by businesses and even most clinicians. These are satisfied customers for a product that nobody is selling – yet.
The full text is available to non-subscribers as long as you have not yet exceeded your limit of free articles.
A few thank-you notes:
OK, open thread: I'd love to hear what you think about how I described the opportunities of peer-to-peer health care for business leaders and entrepreneurs.