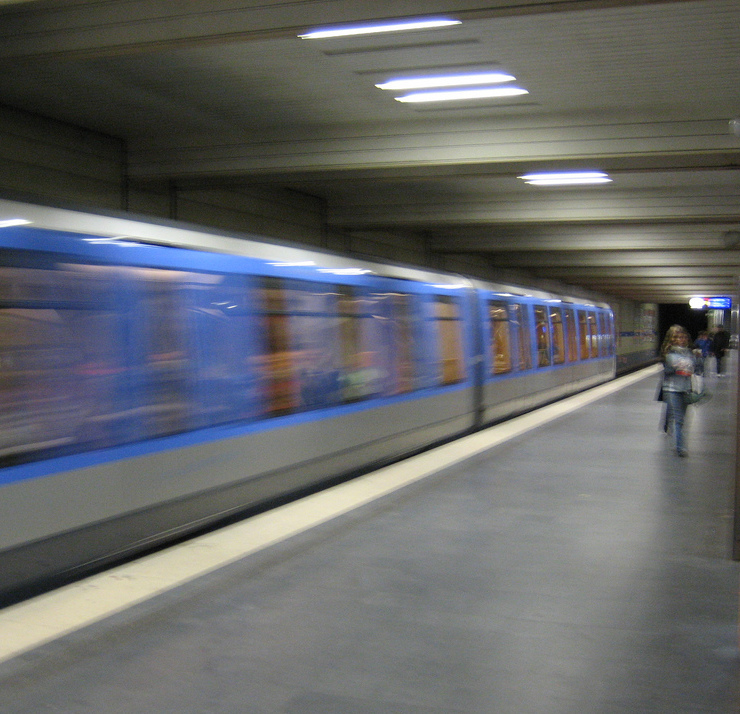 In the spirit of Public Q&A, I am sharing a question I received from someone who helps run outreach and support programs for a disease-focused nonprofit:
"In your research did you learn about what mode and types of connecting teens preferred? Did any teens express wishes for something online that they couldn't find in terms of connecting with peers?"
Essentially, what is missing? How can we better serve this age group that is likely to be online daily?
I will share my answer and I am hoping that other people — researchers, clinicians, community leaders, and teens themselves — will add their ideas in the comments. Let's help this organization and others like it!
To begin, I'll quote from the Hopelab/Well Being Trust report I co-wrote with Vicky Rideout: Digital Health Practices, Social Media Use, and Mental Well-Being Among Teens and Young Adults in the U.S. :
Teens and young adults turn to each other for advice when making all kinds of decisions – including those related to health. Previous studies have shown that about two in ten U.S. adults have gone online to find people who might have health concerns similar to theirs. This study shows that youth lead the way in the social revolution that is underway in health. 
About four in ten (39%) young people say they have gone online to try to find people with health conditions similar to their own. Most of those who tried to find such "health peers" online reported that they did succeed in finding them (84%). This means that, across all survey respondents, a total of 33% of young people have successfully found health peers online. Almost all (91%) of those who found health peers online say the experience was at least "somewhat" helpful: 20% say it was "very" helpful and 71% say "somewhat." 
This person is asking specifically about teens though, so I'll note that just 25% of 14- to 17-year-olds say they have tried to find health peers online, compared to 51% of those ages 18- to 22-years-old.
If someone answered "yes" to "Have you ever gone online to find other people who might have health concerns similar to yours?" they were also asked, "Have you ever tried any of the following ways to find people online with health concerns similar to yours?" The table below lays out all the strategies we included and the percentage of young people who said they tried each one: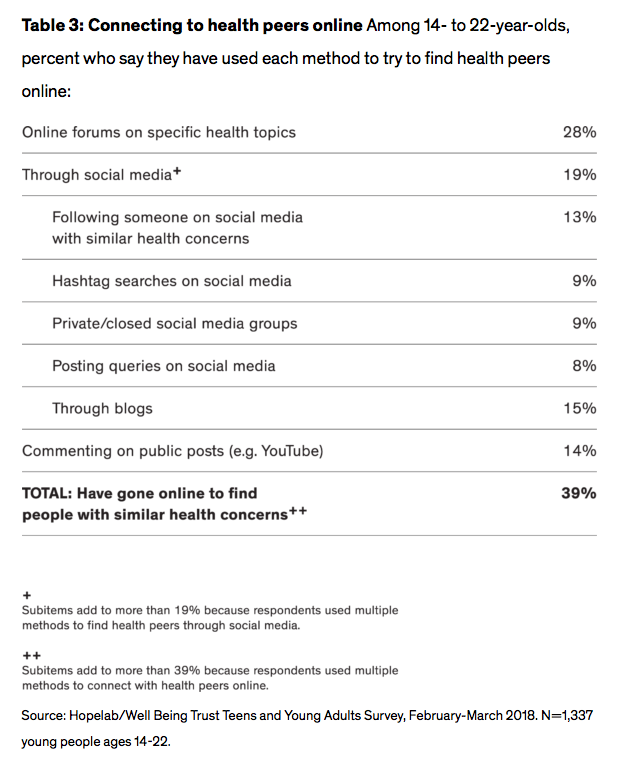 This table is an illustration of how difficult it can be to design survey questions about a fast-moving topic. We didn't include, for example, any questions about how someone might use an app to connect with a health peer. There are probably many more ways that a teen might look for and find someone who shares their health concern, which is why this research is a useful but incomplete guide. Interviews and focus groups with people in the target group, for example teens living with a certain condition, will be essential to understanding their preferences.
We also asked why young people why they HAVE NOT looked online for a peer:
Of the 61% of those who say they haven't sought out people with similar health concerns online, most say it's because they simply haven't had any serious health issues (55%; respondents were allowed to select multiple reasons why they had not done so). But many also say they would rather talk to people in person (36%) or that they prefer to rely on professional health providers (33%). One in four (25%) say they don't trust online advice from people they don't know. Fewer than one in ten (9%) say they don't know how to find people online with similar health conditions. 
That last sentence is important. It means that only a tiny group (about 5% of 14- to 22-year-olds) say they don't know how to find health peers online. It's a ripe moment for peer to peer connections. Young people are feeling confident that if they do have serious health questions and decide to supplement the advice of their clinicians, they know how to look online for a "just-in-time someone-like-them."
It's also important to note, however, that when we asked people to elaborate on their answers to this question, teens wrote about how their parents would not want them talking to online strangers about personal issues. For some teens, it may be important to get their parents' approval before venturing into an online forum.
In a separate question we asked young people who have looked online for health peers to tell us, in their own words, what happened:
"I have type 1 diabetes and tried to find a group of teenager type 1's on Facebook. I did. It was cool. Made some friends." – 14-year-old male 
"I found a very good friend in another country that had the same condition as I did, and it was truly inspiring to have the freedom to tell them about it and likewise them to me!" – 21-year-old male 
"I went on a chat forum for people with eating disorders. I made a friend that I keep in touch with. We talk about what we have been eating recently and how we have felt about our situation." – 15-year-old female 
"I shared my experience with IBS [irritable bowel syndrome] on Facebook and gave tips [for] major flair ups." – 22-year-old female 
"I wanted to know something about birth control and people had the same questions and it helped me know that I wasn't alone." – 21-year-old female 
"I read someone's [story of their]… recovery [from] trichotillomania [pulling out one's hair] and found it inspiring and relieving that I wasn't the only person experiencing this compulsion since childhood." – 20-year-old female 
"I shared my scoliosis journey and spinal surgery and updates on post-surgery recovery." – 20-year-old female 
"I have watched several people detail their fitness routines and how they used it to beat mental health disorders such as body dysmorphia and those affected by obesity and food addiction." – 22-year-old male 
"I've watched several videos that are first person accounts of coping with depression and anxiety. I can't give specifics, because there were a few separate instances and all were not very memorable. It was about finding a sense of 'I'm not the only one', not about finding out about a specific person's struggle." – 22-year-old female
There were hundreds of responses that did not make it into the final report, so I went back into the data and found more quotes that shed light on the "what's missing?" question:
A 15-year-old boy wrote, "Forums are very helpful to read and learn about other people who are facing similar things. The only downside is that there is no way to know if what they are saying is true or not."
A 16-year-old girl wrote, "There is a support group for my family's mutation. This particular support group discusses how to achieve the proper diet for the mutations along with supplement info. Unfortunately, most people on the site don't know much about how to get help. Therefore, after my mother learned how to help the whole family she still continued to share her knowledge with the group. She even met some people who were able to help her with other problems."
How might an organization address these issues of fact-checking, knowing who is telling the truth (and who is not), and ways to connect online forum members with additional resources?
I also found quotes about how online research and connection to a just-in-time someone-like-you can make all the difference:
A 20-year-old woman wrote, "As a young teen I always felt there was something wrong with me. Went online for answers and found information about depression and anxiety specifically and felt it applied to me. It helped in that it pushed me to go see a therapist who referred me to my psychiatrist who ended up diagnosing me with bipolar disorder. Educating myself on these mental health issues helped me get the treatment I needed."
A 17-year-old boy wrote, "Wanted to find out more about EDS Foundation and others who suffer with the disorder."
Now I'm turning to you, my community colleagues: What do you see in the field? How might a condition-focused organization attract teens to online communities? Please share your thoughts — and other questions — in the comments below.
Featured image: Subway in Munich, Germany, by Chris Yunker on Flickr (because to me it illustrates our worry about a "missed connection" among teens online).