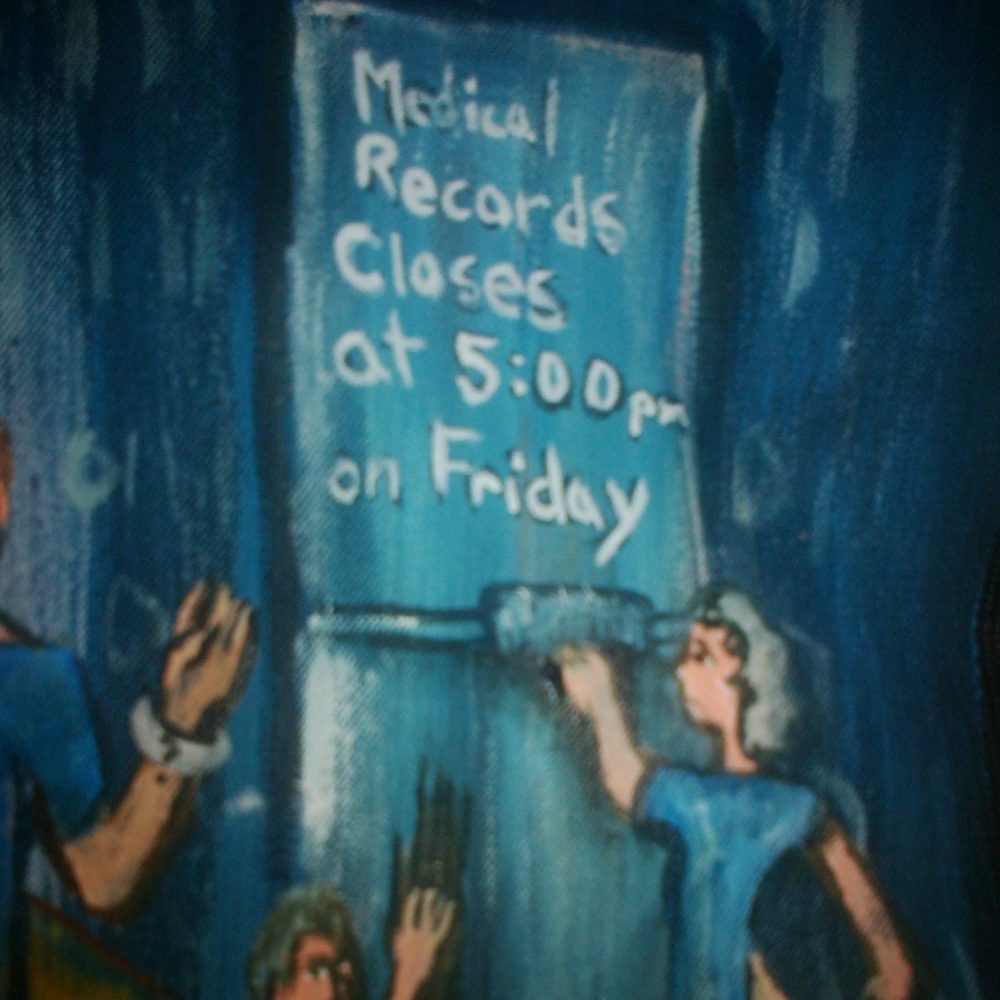 Continuing my practice of "flipping" an event — posting what I hope to get across in advance in order to jump start the conversation — here is a preview for a panel set to take place on Oct. 23. My co-panelists (Iya Khalil, Deborah Kilpatrick, and Don Rucker) and I will talk about data as an engine of disruption in health care at the Milken Institute's Future of Health Summit 2018.
My essential message is that patients and caregivers should be as much a part of the disruption conversation as any other stakeholder.
All of us, no matter what role we play in the health care ecosystem, should focus on giving individuals access to their own data and work up from there. And when I say data I mean everything: medical records, device data (such as pacemakers and continuous glucose monitors), and their personal tracking of symptoms (what else? Please share your thoughts in the comments below). We should also encourage the marketplace for apps and other ways to help people make sense of their data.
The Blue Button initiative, which started in the Obama Administration and continues today, is an example of what people in the industry call "consumer-directed exchange" (CDEx) of health data. As I wrote in my recent post about how consumer access is Blue Button's North Star: "We had to start somewhere and we started with patients." Anil Sethi, CEO of Ciitizen (a company I'm advising) recently wrote: "Make the data available to patients and it becomes instantly portable." If you want to learn more, the CARIN Alliance explains the CDEx model well.
Another positive development: Nationwide, 30 31 million patients now have online access to the notes* that their clinicians write in their medical records (according to OpenNotes). Research shows that an increase in transparency is associated with an increase in shared decision-making — that is, the more access patients have to data about their health condition, the more likely they are to engage in treatment and problem-solving (that is positive disruption in my view).
More broadly, both the Obama and Trump Administration's health officials are working on "seamless exchange" of health data among stakeholders, including individuals. As Centers for Medicare and Medicaid Services Administrator Seema Verma recently wrote on Twitter: "Patients deserve electronic access to their health data, doctors should be able to seamlessly exchange data between EHRs, & EHRs should allow third-party applications to leverage that data in innovative ways for the benefit of all."
But in reality, many people have not been able to gather their own medical records. A clutch of recent articles has documented their struggles.
If you haven't read it yet, click through on "Paper Trails: Living and Dying with Fragmented Medical Records." As Lisa Bari, Health IT Lead of the Seamless Care Models Group at Center for Medicare & Medicaid Innovation, wrote on Twitter:
"I've already shared this excellent article a few times, but I need to get a rant off my chest really quickly. This fragmentation, lack of interoperability HARMS patients. Every single day. Even if you want to believe that providers aren't actively trying to harm patients, what happens when you go to see a specialist, get tests that would result in the need for an immediate intervention, but there's no follow up? The data lives in a silo, no one is alerted. This is a trivial issue, based on the technology. The simplest thing, barring a national [health information exchange], would just be for the specialist to send a direct message to the [primary care physician (PCP)] with the information, as well as the patient. But it rarely, if ever, happens. Of course the specialist is on EHR 1, the PCP on EHR 2 (instance 1), the urgent care clinic on EHR 2 (instance 2), and none of these systems are exchanging data. This experience x 1000000 every single day."
Another article's authors deployed a "mystery shopper" technique to test how easy or hard it is to get a complete medical record for an individual. See:
Assessment of US Hospital Compliance With Regulations for Patients' Requests for Medical Records, by Carolyn T. Lye, BA; Howard P. Forman, MD, MBA; Ruiyi Gao, BS; Jodi G. Daniel, JD, MPH; Allen L. Hsiao, MD; Marilyn K. Mann, JD; Dave deBronkart, BS Hugo O. Campos; Harlan M. Krumholz, MD, SM (JAMA, Oct. 5, 2018).
A quote from the Key Points:
Question Are US hospitals compliant with federal and state regulations in their medical records request processes?
Findings This cross-sectional study of 83 US hospitals revealed that there was noncompliance with federal regulations for formats of release and state regulations for request processing times. In addition, there was discordance between information provided on medical records release authorization forms and that obtained directly from medical records departments regarding the medical records request processes.
Meaning Discrepancies in information provided to patients regarding medical records request processes and noncompliance with regulations appear to indicate the need for stricter enforcement of policies relating to patients' access to their protected health information.
If you'd like to read plain English press coverage of the JAMA study:
Another perspective worth attention comes from Lucia Savage, a former colleague of mine at HHS and now Omada Health's Chief Privacy and Regulatory Officer. She spoke with Jessica Davis of HealthCare IT News:
There are many issues when it comes to data sharing, including contractual data blocking by vendors. It's understudied, but Savage explained that it's likely more prevalent than imagined. Health data is like "intellectual oil" powering an "idea economy."
"So the person who has the data feels like they have something special. And there are a lot of pieces on how that gets played out," she said. For example, an EHR vendor may take a blood sugar reading and how they display it is their intellectual property.
"But what your blood sugar was, is what your blood sugar was: It's just PHI," she continued. "We don't have very refined rules for separating those things out. … People are sort of asserting a property or proprietary interest over data that comes from the natural process of being a human being."
Another issue is the way ideas and inventions interact within healthcare, such as a device. Savage explained devices aren't necessarily covered by HIPAA, so the manufacturer isn't directly subject to those rules that "let you get your own data."
Only once the data has flowed into the EHR can the patient get it, she explained. "But the device manufacturer just is collecting data and analyzing it on their servers. And it literally is physically and legally their property."
Another of my former HHS colleagues, Deven McGraw, wrote a great health data rights explainer on the Ciitizen blog, the startup she joined (and again, full disclosure, I'm advising). For example:
With a few exceptions (that so rarely occur they probably don't apply to you), you have the right to all of your health information from your medical providers and your health plans. Doesn't matter how old it is, or where it originated – if they have the information you're requesting, you have a right to it.
You have the right to an electronic copy of any information that is maintained electronically (such as in an electronic medical record) – and you even have the right to have paper copies scanned into an electronic format (such as pdf) if the institution or organization has scanning capabilities.
You have the right to get your health information sent to you by e-mail – even if your e-mail isn't secure, as long as you acknowledge that you are comfortable with receiving your health information this way.
We know that when people gain access to the internet, they dive in quickly to health information searches. Recent surveys show that we're now at near-universal internet access in the U.S. and most people say they go online to look up all kinds of information. What's particularly intriguing to me are those who look online for someone who shares the same health condition or concern — the just-in-time someone-like-me who can give them peer advice tailored to their needs. How might we leverage that instinct for connection? How might data play a role? How might we grow people's appetite for health engagement?
The elephant in the room is that most people don't WANT to engage in their health, much less with their health data. Highly motivated patients and caregivers are the tip of the spear, the pioneers who will push for access and help create the tools that the rest of the population will gratefully use if they ever need them. I still believe we should all be working toward freeing the data and letting people decide whether to engage with it, building the infrastructure and tools that allows someone to wake up one day (maybe because of a life-changing diagnosis) and say, "Yes, I'm ready. Now, how do I get my data?"
* spotted a tweet by Liz Salmi with the new number for OpenNotes (31 million patients) and: "We hit all 50 states on Friday with the addition of a health system in Alabama—Auburn U."
UPDATE: Video of our panel is below
Featured image: "Medical records closes at 5:00pm on Friday" by Regina Holliday.