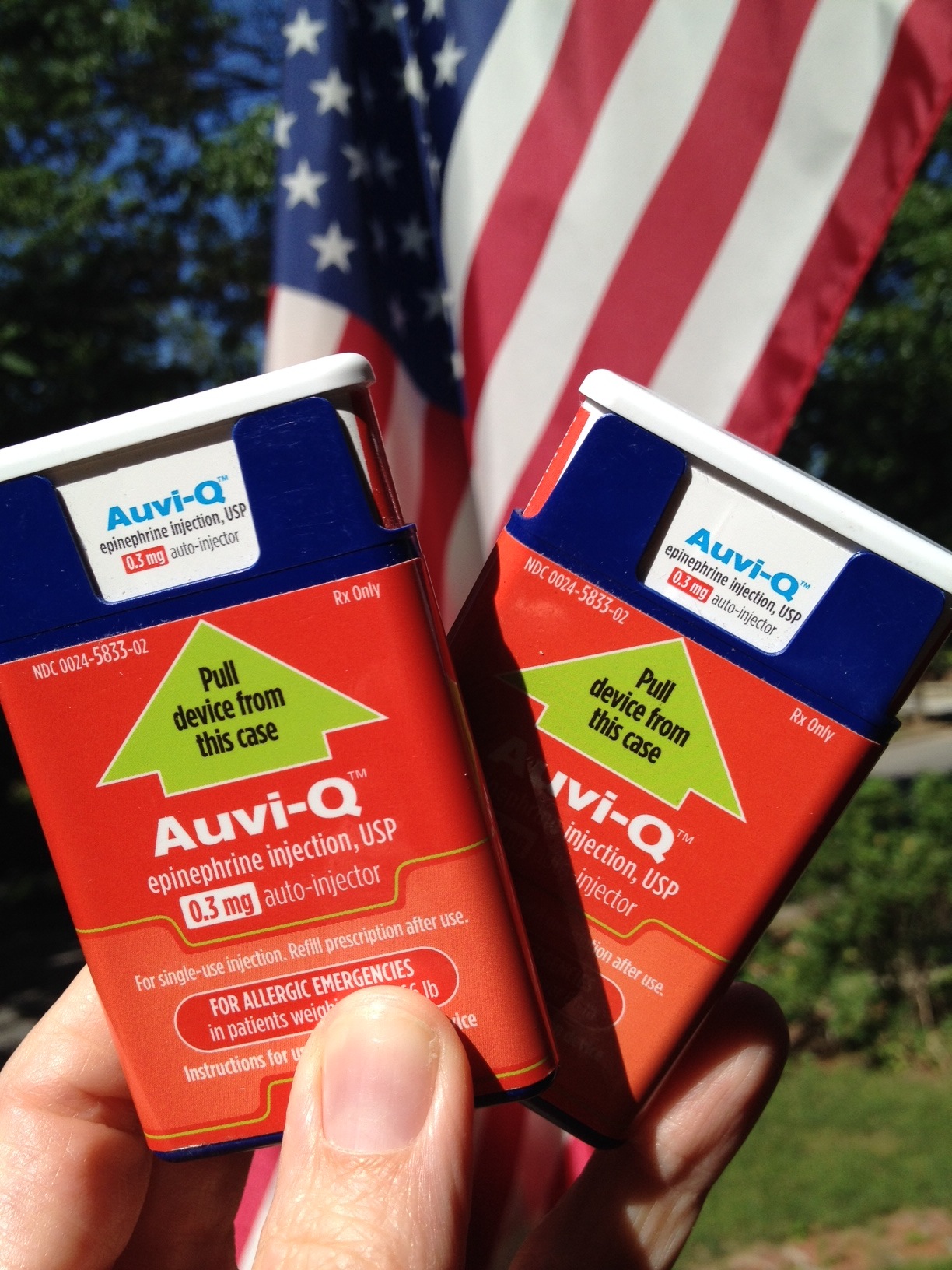 UPDATE:
FARE has created an excellent 15-minute online class:
How to Save a Life: Recognizing and Responding to Anaphylaxis
Original post:
In a fit of housecleaning last spring, I recycled all my old food-allergy training files since they were 5+ years old. I figured it wouldn't be very hard to find a good one-pager on the basics of food allergy and anaphylaxis in time for my annual teacher training. Wrong.
I started at the top of the food chain, the biggest food allergy advocacy organization in the U.S.:
FoodAllergy.org: Treatment and Managing Reactions page
Best find: a 2-page PDF summarizing signs of anaphylaxis and directions for using the 3 epinephrine injectors now available. Comprehensive and to the point, but I hoped to find something with a little more pizzazz.
Maybe my hard copy of Food Allergies for Dummies, by Robert A. Wood, MD, would have a tear-out one-pager. Nope. The chapter on how to handle an emergency is 5 pages long — great information but not exactly grab-and-go.
Then I went to a specific site for children:
Kids with Food Allergies: School and Preschool page
Best find: an extensive list of webinars, blog posts, and guides for specific situations. Perfect for me, but I would not suggest it as a resource for a busy teacher.
The KFA site led me to:
CDC: Food Allergies Publications & Resources page
Best find: a 2-page FDA summary of food allergies (PDF). OK, but it's a hard-to-read riot of italics, bold, and various typefaces.
Laugh or you'll cry find: a daunting 100-page PDF guide for managing food allergies at school. Who's going to read that?
Losing hope, I turned to the maker of the most popular epinephrine injector. Surely their marketing team has created a clear, concise, consumer-friendly one-pager on food allergy and anaphylaxis.
EpiPen: When to use the EpiPen page
Best find: a link to how to recognize the signs of anaphylaxis
Laugh or you'll cry find: the graphic is blurry and cuts off the title.
Seriously? Doesn't anyone review these pages with the end-users in mind? I can't walk into a 20-minute meeting with my son's teachers and hand them a 100-page guide (CDC), a list of webinars (KFA), or a graphic with information cut off (EpiPen). I don't have time for their blah-blah-blah.
I thought about how Joyce Lee, MD, MPH would approach this problem. She is one of my gurus, both professionally and as a peer food-allergy mom. Feast your eyes:
And finally:
Look at the ingenious booklet she gives to her son's teachers, detailing his allergens and what to do in an emergency.
But I don't have time (or frankly the skills) to create a bespoke hand-out. There must be someone who has thought about how to get the key information across in a compelling format for a broad market. I asked myself: What is the most thoughtful organization in allergy treatment right now? Duh. Auvi-Q.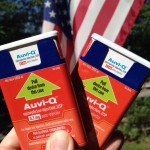 Created by two brothers who grew up hating — and therefore not carrying — their EpiPens, the Auvi-Q is a fits-in-your-pocket epinephrine injector. Captain Obvious alert: if you design something that is easy to carry, patients will be more likely to have it with them when they need it.
The brothers also addressed the second major barrier to treatment: clueless bystanders who don't know how to use an injector. As soon as you take it out of its case the Auvi-Q guides you with clear, audible instructions. It's a genius response to another old "non-adherence" problem. Don't scold — innovate! (For more, read this New York Times story about Eric and Evan Edwards and Joyce Lee's post, "Meet Auvi-Q, the new Siri for Allergy Patients.")
Maybe the Auvi-Q marketing team created a one-pager to give to teachers. I crossed my fingers and clicked on their site:
Auvi-Q: Anaphylaxis Symptoms page
Best find: Symptoms Flash Card (PDF). Yes! This is what I've been looking for.
Laugh or you'll cry find: It's not shareable on social media as a PDF. So I hacked a screenshot into a JPEG. (I'm no Joyce Lee, but this I can do.)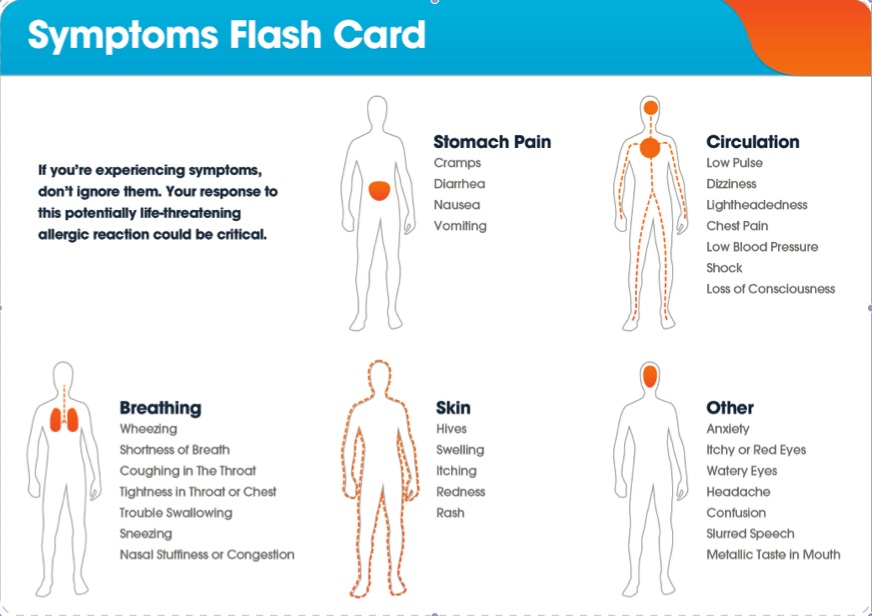 I wish it had not taken me this long to find a shareable, well-designed anaphylaxis guide, but in a way, I'm glad it did. I learned, once again, that there is so much to learn from expert peers (like Joyce) and from motivated patients (like the Edwards brothers). And so much potential for progress.