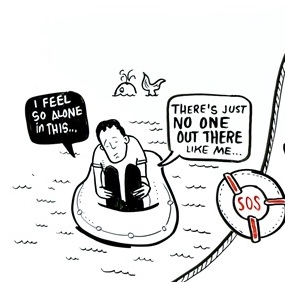 "You are not alone."
People who are newly diagnosed or facing a health challenge long to hear those words. Connection is an antidote to suffering and confusion. When they are able to tap into peer-to-peer networks of patients and caregivers, Networkers learn in community about their condition, shrug off the burdens of isolation and shame, then urge each other to stand up for themselves. Networkers pick up signals and, if we tune in and listen, they can serve as an early-warning system for crises – and solutions.
Networkers pool resources.
This is the second post in a series that I'm writing to introduce the archetypes of the patient-led revolution (for my forthcoming book from MIT Press). The first post focused on Seekers. Today: Networkers.
I've interviewed hundreds of people, but I'm always looking to learn more and figured I'd post my notes to get input from my community (thanks again for being here!)
Here's some advice shared by Networkers when I asked what they'd say to people who were just starting out and not yet connected with peers:
You may feel hesitant about joining a community. Maybe you've sworn off Facebook, Twitter, and other social platforms. That's OK. Podcasts are a great way to dip into a topic and start to pick up terminology, as are YouTube videos. Listening and learning from others like you can make you feel like you are part of a larger community.
Start small. Find one person who has been on the same path that you are on. Learn from them about the communities they have joined.
Some of the most valuable health insights comes from anecdotes: What does a heart attack, childbirth, or dialysis really feel like? How do you take a shower with a leg cast? Most people understand that these stories are personal and not medical advice. A responsible Networker weeds out bad advice and misinformation before passing anything along to others. Start honing your fact-checking skills. When you do see bogus advice being shared, debunk it.
Once an innovation proves useful, Networkers can help make sure that everyone who could benefit is able to understand it, get it, and, if necessary, keep at it. Networkers can say to people who share their condition or life stage, "This works! I use it myself." Write a review for a product or service you love so that other people benefit from your experience.
Now, your turn. If you are a Networker, please share some tips for people who are wondering if it is worth investing the time to become part of a community. How did you get started? What drew you to your favorite group — and what keeps you there? What advice do you have for fellow Networkers?
(And yes, I intend to use these comments in my book or further articles about peer health innovation, so thank you in advance for your help!)
Image: Screenshot from the Peer Health Advice video I produced with Reframe Health.