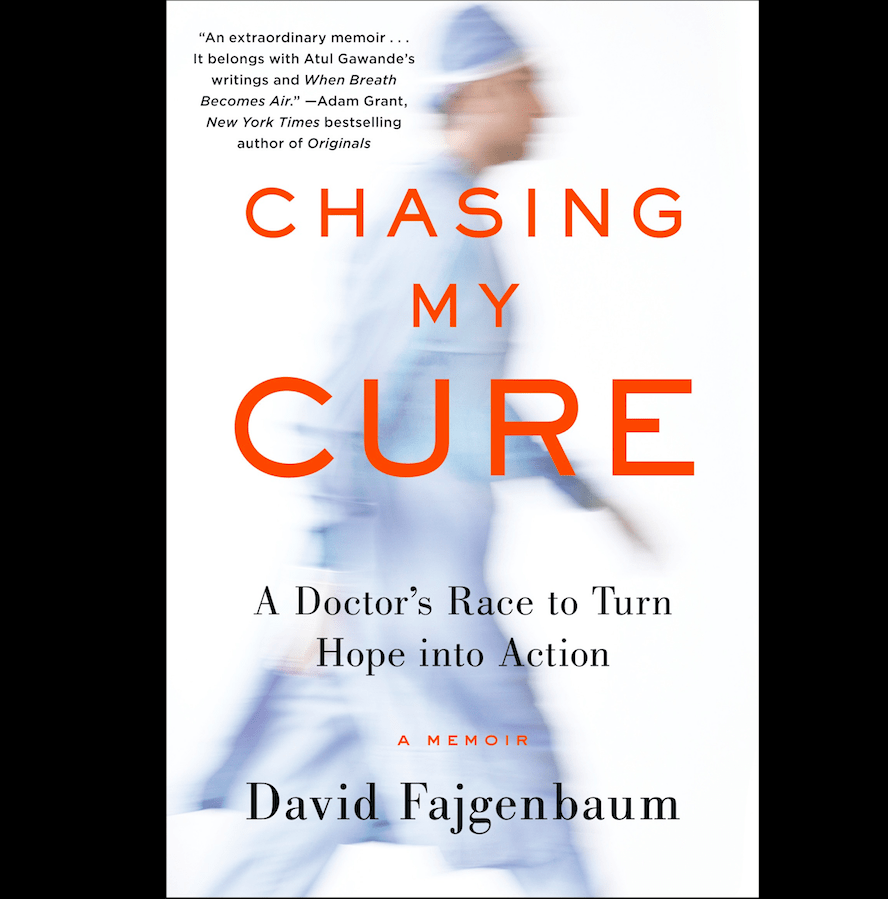 Years ago, I met a mom of a child with a rare disease who matter-of-factly shared her story, which included as many twists and close calls as any blockbuster summer movie. I marveled at her heroism and she said no, she rejects that description. "I'm not a hero," she insisted. "I'm a typical mom. You would do the same thing for your child." She's right. I would certainly try. But would I be as successful as she was at navigating the health care maze and finding answers? I hope to never have to find out.
I thought about that mom recently while reading a preview copy of "Chasing My Cure: A Doctor's Race to Turn Hope into Action," by David Fajgenbaum (released today). It reads like a superhero origin story — a man so strong that his friends call him the Beast is cut down to size by a mysterious disease, only to battle back using his wits and grit. He completes medical school and goes straight into business school, in between stints in various intensive-care units, nearly dying multiple times from organ failure. Somehow he claws his way back to health and builds a career focused on curing diseases like his own.
Reading "Chasing My Cure," I thought about other extraordinary people who have overcome obstacles. People like Abby Norman, author of the gripping "Ask Me About My Uterus: A Quest to Make Doctors Believe in Women's Pain," which reads like a murder-mystery being solved by the victim. Or Sharon Terry, a former chaplain and stay-at-home mom who founded the Genetic Alliance as she pursued answers about her children's disease. Or Doug Lindsay, who invented a surgery and cured himself (yes, really.) Or Terry Jo Bichell, who went back to school to earn a PhD in order to pursue a cure for her son's rare genetic disease. Or Dana Lewis, who built on the work of other diabetes data activists to create an open-source Artificial Pancreas System. These are people who "pursue hope like it's an outlaw," as Afternoon Napper once said about her fellow rare-disease advocates. They refused to give up and instead went to school on their conditions, sometimes literally.
Stories like these help the rest of us recognize, maybe a little earlier than we otherwise would, the patterns that are common to so many health care stories. The moment when yet another doctor doesn't believe your symptoms are real. The discovery that a clinical trial or even a treatment does exist for your disease but your clinical team is not up to date. The realization that if you don't do something, nobody will.
Here's how David describes his realization that there were no drugs in the research pipeline to help him:
Like Santa and his elves working to grant wishes to every good boy and girl in the world, I imagined that for every problem in the world, a highly qualified team worked diligently, perhaps in a workshop, and it operated out of sight, out of mind, right up until the moment that it solved the problem. Right on schedule, deposited in your living room, and wrapped in a bow, the problem is solved, revealing the magic of the workshop's efforts…

The frequent news about medical breakthroughs feeds this optimistic illusion: you assume that someone, somewhere has already figured out the answer to every medical question you could ever pose or, if not, that a team is hard at work solving your particular medical need as quickly as possible. A cure is near; discoveries will happen whether or not you contribute time, talent, or dollars toward them. So, I had waited on the sidelines because I believed others to be on the case. But now that illusion was no longer possible to sustain. Not when Santa Claus himself was looking me in the eyes and telling me nothing would materialize, gift-wrapped, to cure me.
Like the rare-disease mom I met, David also rejects superhero status. He writes that having a rare disease pushed him "off the beaten path — and right into a ditch. From there, things looked a little different." As a physician-scientist-businessman-patient hybrid, David is a unique "insider-outsider" who can review the medical literature, gather an international team of researchers, raise money, AND convince fellow patients to donate blood samples.
Since my antennae are always tuned for peer-to-peer health care signals, I honed in on the passages where David describes connecting with fellow patients, such as:
Maybe not too surprisingly, questions important to patients weren't always the same as those for physicians and researchers…So we integrated suggestions from both groups on the [Castleman Disease Collaborative Network] international research agenda. We also connected patients with one another through social media, online discussion boards, and periodic in-person gatherings. I didn't discount for a minute the power of this kind of connection. Meeting another patient in Dr. van Rhee's waiting room years before had given me the boost of confidence and support I needed to keep fighting.
David is the galvanizing force that has finally drawn this disease community together. Even as we celebrate his achievements, though, I find myself asking: How many other communities are languishing? What platforms and tools need to be built to give everyone, not just the Davids (and Sharons and Dougs and Danas) of the world, a chance to contribute to solutions? What policies need to be crafted to break down the silos holding back discovery?
Here's another question I keep coming back to: What's better? Knowing the truth that there is no Santa Claus for most diseases? Or is it better to keep skating over thin ice, hoping you don't ever fall in and need to test your superhero mettle?
Whether you read it as a citizen-scientist guide or an armchair-tourist tale, I highly recommend "Chasing My Cure." Check out the book's website, including a quiz to find out your Hope Score.
P.S. I would be remiss in writing a post with this title if I did not mention Ann Curry's new show, Chasing the Cure, which features my friend and community colleague Bon Ku, MD, as one of the experts. It's a fascinating mainstreaming of the peer to peer health conversation. Looking forward to seeing where the path leads!