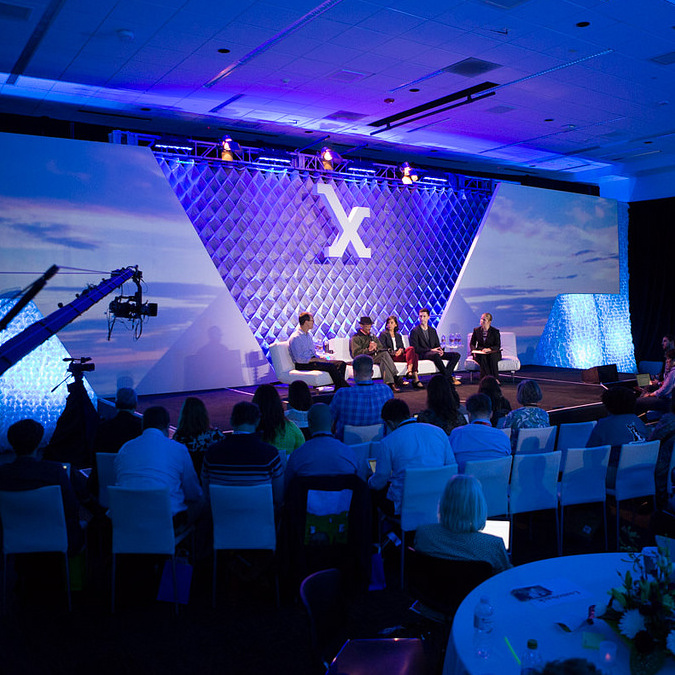 On February 21, Larry Chu, MD, announced that Stanford Medicine X would take a hiatus. He shared the following story:
Eight years ago, I posted a tweet announcing my intention to launch my first conference at Stanford. I received a variety of responses, but the one that remains the most poignant is the one I received from a patient, asking me "Have you invited patients to your conference?"

I regretfully had not, and realized immediately that I should probably meet this man.

All these years later, I still remember meeting Hugo Campos at Stanford's LKSC. We both sat in the lobby as the afternoon sunlight washed over us, and talked about how a health care conference might bring the expertise of underheard voices into its corridors of power to inspire and evoke greater change within the system itself.

Today, I look back at the 130 artists, dreamers, storytellers, and activists who took part in our Medicine X ePatient scholar program, and who truly did inspire and evoke the greater change that Hugo and I dreamed of back in 2010. Today, I think of them, and how proud I am to count them amongst our global Medicine X family.
Stanford Medicine X was, for me and many people, a magical place where we could dream out loud about a different approach to health and health care. I learned so much from Larry and his team about how to create space in my work life for beauty, honesty, empathy, and discovery. Medx helped grow the e-patient movement and, if it ends, I want its spirit to live on at other conferences.
For example, Medx followed the obvious but not universally-adopted rule that conferences about health & health care should include patients and caregivers – "actual sick people" as Casey Quinlan would say. The ePatient scholars added insight and lived experience to the conversation in ways that professionals could never imagine. And by inviting a large cohort each year, Medx ensured there were no token patients, made to feel like they had to represent every disease or condition.
Here are my other suggestions for how other conferences can emulate Medx:
Build a beautiful stage and invest in gorgeous lighting. My personal favorite was the 2014 stage set and lighting designed by Joshua Harms of Vision District (shown above). Videos and photos of your incredible main stage will help build your brand AND make your speakers feel like rock stars.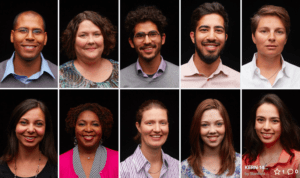 Give speakers thoughtful, useful gifts like a portrait by photographer Christopher Kern and producer Nikki Kern (examples at left). E-patients who are not professional speakers now have a great head shot to use for their social media profiles.
Hire photographers. The Stanford Medicine X Flickr albums tell a comprehensive story about each conference, from the main stage speeches and break-out sessions to the meals and walking meetings. It's a visual resource for bloggers and journalists who want to illustrate their stories about the event.
Encourage people to tweet and share what they learn. Medx bills itself as the "most-discussed academic medical program in the world" and it's true: the hashtag trends on Twitter every year thanks to people in the room AND those watching online. (Oh yes, provide a free live-stream.)
Create a wellness room with (at a minimum) drinks, snacks, low lighting, recliners, and screens showing main stage presentations. At Medx, the patients were the VIPs and every attention was given to their comfort.
Set up all kinds of seating options. Some people like to set their laptops on a table, others want to be able to stand, and many just want to sit in the back rows, listening. Also: leave plenty of room for wheelchairs.
Be inclusive. Have ramps up to the stage. Tape wheelchair paths on the floor as a visual suggestion for people to keep that space clear, even when the conference hallway gets crowded. Designate gender-neutral bathrooms. Exceed people's expectations about the food options: vegan, gluten-free, with complete allergen labels on every dish.
Give conference attendees a chance to make something – to build, shape & create with their hands. One year we decorated spoons in honor of The Spoon Theory. Another year there was a maker tent with a 3D pen available for people to try. It's a great way for people to take a break from the hubbub and engage a different side of themselves.
Create a showcase. Medx's YouTube channel is a comprehensive record of the presentations that have been given over the years. Conference organizers who want to diversify their speaker lineup can browse the videos, checking out all the people who have blossomed under the Medx spotlight.
Invite artists into the conversation about health & health care to push, pull, surprise, incite, and inspire us. Some of the artists who have presented at Medx include: Regina Holliday, Rachel B. Stork Stolz, Gilles Frydman, Yoko Sen, Anthony Carbajal, and Elisabeth Jameson.
Add your own quirky touches. Medx had a mascot — Larry's French bulldog, Zoe — who charmed everyone who saw her. On a more serious note, Larry is not only a doctor, but also a film-maker and he invested in creating high-quality videos from the beginning. Each one is an extraordinary documentary. See: Julia & Annie Kramer-Golinkoff; Sean Ahrens; Britt Moody; Julie Flygare (just to link to a few).
But these are just my lessons learned. As Larry did at the start of Medx, I turned to the Twitter community and asked:
What did #Medx teach you, if you were lucky enough to attend or be part of the online community?
The community responded:
I intended to speak about #btsm at #medx 2015. Ultimately, Hugo Campos convinced me to speak about #transhealth (for the first time, publicly) instead. Afterwards people came out to me, others reached out to say their centers changed intake forms & started advisory boards because of it. Before brain surgery I felt calm and at ease about the possibility of dying knowing that I had lived a life that I was proud of. Since then, my ambitions have skyrocketed – new possibilities you and so many others have helps to create. Full talk here. – Charlie Blotner
#MedX gave me a voice in a world that told me not to talk about my health problems. – @Britta34
As a scientist, #medx (both 2015 and 16) taught me that even if I designed a study in the best way possible and got amazing results, I would still only have 50% of the information I needed to solve the problem – Bill Simpson
You meet a lot of inspiring people interested in making the world a better place, No matter the extreme circumstances they face!! – Terry Marlin
That products & services aren't just better when we collaborate w/ patients, but it can re-humanize medicine & those relationships can change everything. Made too many amazing friends to list… – Geri Lynn Baumblatt
#Medx taught me to be gentler to myself & more accepting of myself. Seeing all that the ePatients had done even as they struggled with illness let me acknowledge that I'm a patient with health problems, not just someone who works doggedly to solve health problems. – Doug Lindsay
That collaboration across conditions and situations is invaluable. #raredisease or things that just don't "fit in" anywhere had a home at #MedX (and thank you for encouraging me to go! legit changed my life.) – Natalie Abbott
That there really is space for all of us, and when we each bring what we have we can create what we need together – Erin Moore
That wanting to build a stage form which the most difficult stories can be told is possible [and] that e-patient empowerment is greater than the sum of defective bodies and first glances…and that I am proud to be a member of this tribe I never signed up for – Dr. Amy Price
How might we…? Will change my quality of life for the better. – Alan Brewington
That within the chronic illness community there are so many ways to help — but also, so many ways to *be* helped. – Abby Norman
Following online I found people speaking out for my perspective and that there was hope for my life with illness – Kelly Ryan O'Brien
Now it's your turn: What lessons would you like conference organizers to learn from Medx or other events you've attended? Please share in the comments below.