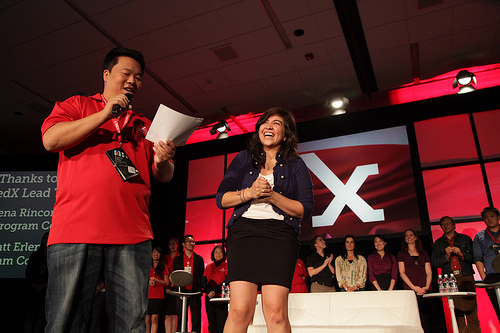 Stanford Medicine X ended on Sunday after three (very) full days. Larry Chu deserves much of the credit for what I like about Medicine X, an "academic conferen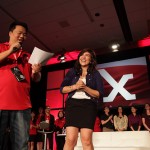 ce designed for everyone."
E-patients made up 10% of the audience and I appreciated their participation on stage, at the microphones, and on Twitter. There were also clinicians, entrepreneurs, venture capitalists, and artists to name just a few of the other groups represented.
I will be writing more about the conference and what I learned over the next few days, but I wanted to share two images:
Larry appeared on stage on Day 3 in the same shirt worn by the volunteers, in their honor. Larry is the most thoughtful and generous person I know. He not only sends beautiful thank-you notes, but in this case, he was essentially wearing one.
Two e-patients supporting a third as she made her way to the stage for the IDEO Challenge Presentation, then, at the end of their panel, supporting her as she carefully walked down the stairs. Everyone was quiet as we watched this caregiving scene. There was no rush, no music, no announcements to hurry her off.
After 3 days together, I felt bonded to the group, the Medicine X tribe, and this was one of our number who needed assistance. I think any one of us would have done the same. Lend a hand, lend an ear, lend advice (to echo my closing keynote from last year).
I have only had that feeling at a few other events – and they're mostly personal or religious events, not work-related conferences. I'd love to hear other memories of Medicine X and discuss how we can infuse our daily lives with the thoughtfulness, respect, and innovation present at Stanford last weekend.