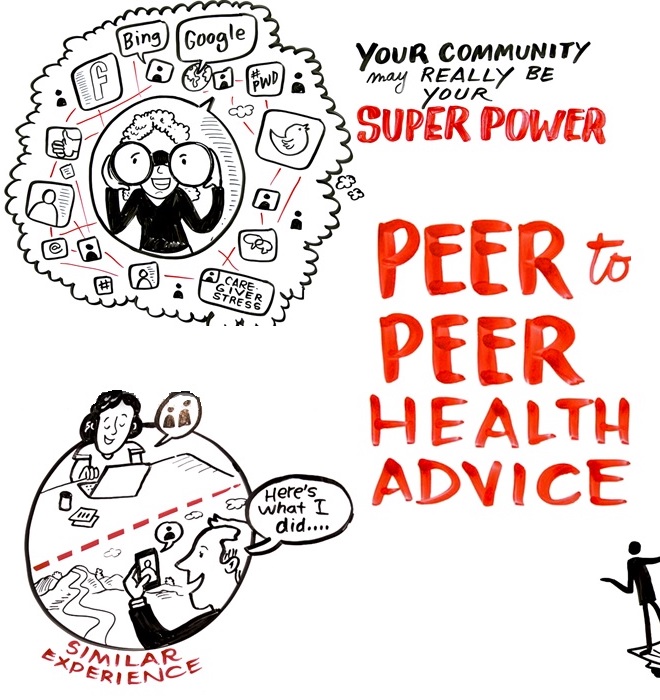 Friends, I have a personal request.
On Friday, December 8, Reframe Health Lab will release a video about peer health advice. It's my best shot yet at inspiring people to go online not only for information, but also to connect with each other.
It was an honor to work with Mike Evans, MD, and Wendy Sue Swanson, MD, MBE, (who shares her wisdom in the video) and I get to retell one of Erin Moore's fabulous stories. The Robert Wood Johnson Foundation provided the funding (thanks, guys!) and Mike Heinrich made it all happen.
Our tag line is: When it comes to health, your community may really be your superpower.
Here's where you come in: Will you, my community colleagues, be my superpower and help us get the word out about the video on Dec. 8?
If you are on Twitter, Facebook, or Tumblr and are willing to donate a status update, please join my Thunderclap. (And if you've never heard of Thunderclap, check out this great profile of the founder, Dave Cascino.)
If you're not into automated tweets, that's cool. Set a reminder on your calendar to tweet your personal take on Dec. 8!
If you're a blogger and you'd like include the video in a post about your own experiences with peer health advice, please send me a note (SusannahRFox at gmail.com) or leave a comment below and I will send you a sneak preview link.
Thanks for tolerating this detour into frank promotion! Now back to regularly scheduled content…