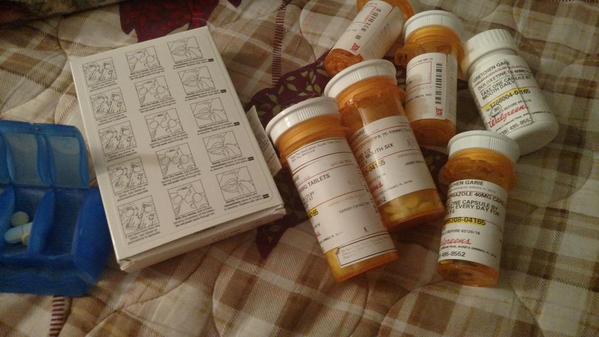 My new job is wonderfully immersive. I leave home early, come back late, and, in between, spend hours talking with people about the future of health, health care, and technology (broadly defined). The HHS IDEA Lab blog will be my outlet for sharing ideas related to the work I do there. This site will serve, as it always has, as a sandbox and outboard memory — the beginnings and middles of ideas, not always the polished ends.
For example:
One week ago I participated in an empathy exercise organized by Smart Patients: Parkinson's For One Day.
My partner was Gretchen Church, co-founder of Movers & Shakers, a national Parkinson Disease support and advocacy organization. She and I talked for about an hour on Friday night and she started sharing pictures on Twitter, like this shot of her medications: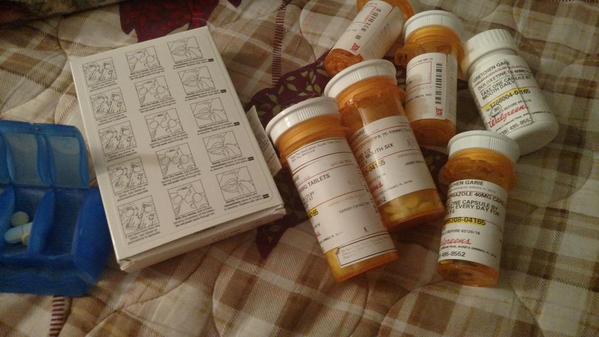 I wore a 10-lb. weight around my right ankle and, at Gretchen's suggestion, a high heel shoe on my right foot and a sneaker on my left. In this way I had to be aware of my gait and balance. Plus she assigned my two sons a job: to say "Freeze" randomly throughout the day. I would have to stop in my tracks for at least 30 seconds. This would mimic the challenge that people with Parkinson's have, particularly when crossing the street.
Walking across a 4-lane street like a zombie (Gretchen's word) was very scary. The distance had never looked so daunting: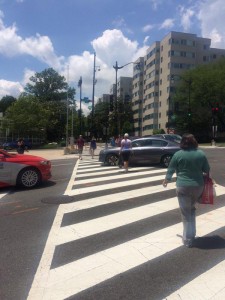 Once again I was humbled by the experience of following someone else's footsteps, just as I'd felt when I shadowed Erin Moore, whose son Drew has cystic fibrosis. I captured that experience in a Storify and three essays: Cystic Fibrosis For One Day: Early Morning; It Gets Real; and A Brave Kid.
At the end of the day, I took off the 10-lb weight and marveled at my muscles' uneven soreness. But, as Gretchen wrote, I was back to normal the next day and she still had Parkinson's. I don't think there was bitterness in that statement, but it was a reminder to bring that awareness into my every-day life.
How else might we bring empathy into our daily lives? Does technology play a role for you in pursuing a deeper understanding of illness and wellness? Please share your thoughts in the comments.