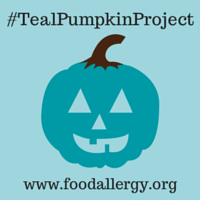 I live (mostly) by Michael Pollan's advice to "eat all the junk food you want as long as you cook it yourself." But Halloween is an exception. We live in a Sesame Street-like townhouse neighborhood in Washington, DC, so my kids can easily hit 100 houses while trick-or-treating. The candy haul is epic.
My food-allergic child has always been great about sorting out the candy with allergens, but the night can still be stressful, knowing that peanut butter and almond confections are in the bag.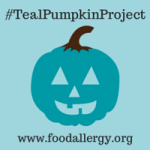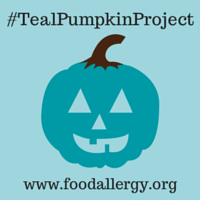 So we, along with many other food-allergy families, embraced a new idea this year: the Teal Pumpkin Project. Started by a food-allergy mom in Tennessee, the idea is that you paint a pumpkin teal (the theme color of FARE, the largest U.S. food-allergy advocacy group) and place it on your porch to let people know that non-food treats are offered at your house.
We had a bowl of candy and a bowl of glow sticks, parachute men, Pokemon cards, light-up rings, and other leftovers from past birthday party treat bags (I knew that stuff would come in handy some day). Most of the kids, especially the younger ones, chose toys over candy, which made my anti-high fructose corn syrup heart happy.
Mainstream and social media lit up with stories about the Teal Pumpkin Project that weekend, but two stories from my own online food-allergy support group stood out to me:
I just thought I would share with you that my Halloween night was made when a girl (aged 8-10) and her dad (whom I did not know) came to my door, noticed the FARE Sign posted on my window and front yard, and asked for a non food treat. I showed her my basket of non food treats and Divvies bars, bats and ghosts, and mentioned that if she has food allergies these chocolates might be safe for her. (She was allergic to egg, peanuts, and tree nuts). Her Dad's face lit up when he saw the Divvies bars and she happily selected a Divvies chocolate bar!! Can you imagine trick or treating at a stranger's house and being able to eat a chocolate bar! What a wonderful thing FARE has accomplished by publicizing this so successfully!! And, of course, it is a brilliant idea this wonderful woman in Tennessee came up with.
Next year, I think many of my neighbors will catch on and paint teal pumpkins. I had the sign laminated and stuck it in the ground next to the teal pumpkin in front of my house.
Although there was only one trick or treater out of dozens and dozens who came to the house, it was well worth it! In fact, I might have been even happier than that little girl!
And:
What a wonderful story! We were touched by the kindness of two of our
neighbors who chose to participate in the teal pumpkin project, even though
they don't have food allergic children themselves.
One neighbor even came running after us when her husband forgot to offer the non-food treats when we came to her house ­ she had bought dollar store puzzles for my boys (all 3 of whom have food allergies) and she wanted to make sure they received
them!
We put a teal pumpkin & sign out at our house as well. Both a candy
bowl and non-food bowl were left on our porch while we went
trick-or-treating with our boys, and when we returned home the non-food bowl
seemed like it was just as popular as the candy bowl. I really think that
lots of kids, whether they deal with food allergies or not, enjoy the
non-food treats for a change sometimes! 🙂
I have observed that food — particularly what people feed their children — can be as sensitive a topic as religion and politics. People have said more thoughtless and unkind things to me about food allergies than about anything else in my life. I think that's why the Teal Pumpkin Project meant so much to me and other food-allergy families. We weren't banning candy or trying to change anyone else's holiday. We were providing an alternative, shining a light on a more inclusive path. And, for the most part, people loved walking it with us.