Quick: check the listings for "The Waiting Room." If it's playing in your city, go. (Run if you live in Boston – the director will be interviewed by Alexandra Drane tonight).

I went to a screening last night and agree with Ann Hornaday, a movie critic for The Washington Post, who gave it her highest rating: An E.R. portrait too true for TV.
A panel afterward featured:
Michelle Carter, M.D., Vice Chair and Clinical Director of Emergency Medicine at Howard University Hospital
Angelica Das, Associate Director of the Center for Social Media at American University
Robert Shesser, M.D., Professor and Chair of the Department of Emergency Medicine, George Washington University
Beth Feldpush, DrPH, Vice President of Advocacy and Policy at the National Association of Public Hospitals and Health Systems
What follows is a selection of questions and answers. Since this is from memory and I didn't ask permission to quote, I can't swear to their accuracy and I'm not going to name names  (but they're obviously mostly from the two MDs on the panel).
1) Why did the hospital give such access? Do you think it reflected well on the hospital?
Highland's C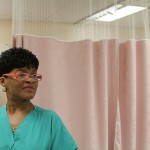 EO is a provocative thought leader and Peter Nicks inspired confidence, despite being a first-time film-maker. Yes, the film makes the hospital look very good. It's a very accurate portrayal of the "front of the house" vs. "back" (ie, waiting room vs. treatment
rooms). One panelist wants to hire Certified Nurse Assistant Cynthia Johnson (the audience agreed – she seemed to be everyone's favorite character).
2) If we had a better primary care system in the US, would that alleviate the pressure on public hospitals' ERs? 
Not necessarily. What is an emergency to the patient is not necessarily a medical emergency — they come when they can, when they have a question, etc. Sometimes they don't come when they should have. There are many other pressures on the ER — for example, when all the beds are full in the hospital. (Note: I loved the ER docs' answers and I'm not capturing them well. Basically they were saying that people have lives, they're not medical experts, they don't know when they need to come in, they make mistakes. The ER docs just try to meet them where they are. Beautiful.)
3) Would increased staffing in the ER help relieve waiting room backlog?
Not necessarily. ER use is actually quite predictable — weekends, especially when there's a full moon, Mondays and the first day after holidays. Hospitals can accurately staff the ER. It's more predictable than elective surgery. If the rest of the hospital is not managed well, the ER can't triage patients out to the ICU, etc.
4) What about the scene when the young MD is being counseled by a senior nurse about how to tell a family that their son has died? Isn't there a class or some instruction for this since it is probably a common occurrence?

No. There was no course, no book, no instruction. You accompany senior doctors and listen to how they inform families, then make up your own style and manner. Another panelist thought that scene was staged. (Note: this was definitely a moment when we all wished the director was there and I would be very interested in his answer.)
That's all I recall and it's just a taste of what the film inspired. Luckily, the film production team is continuing the conversation on Twitter, Facebook, Flickr, and with their storytelling project.