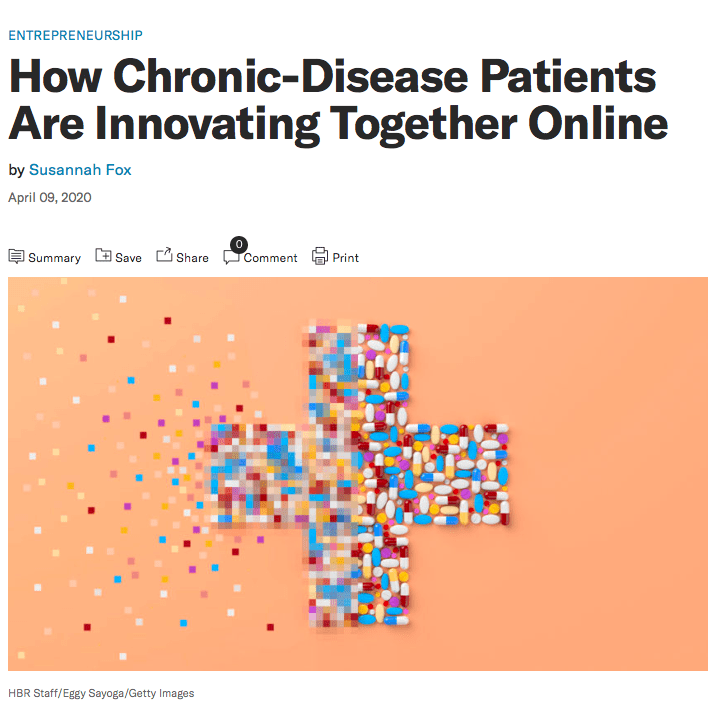 In April, Harvard Business Review published my article, "How Chronic-Disease Patients Are Innovating Together Online." Since then I've been collecting other stories about people gathering online to solve their own problems — an innovation pipeline powered by what I call peer-to-peer health care.
Fortunately and unfortunately, there are many examples. People living with long-term effects of COVID-19, for instance, are slowly progressing through the first few stages of the pipeline:
Stage Zero: Isolation. You feel alone in your diagnosis. Nobody has seen a case like yours before. As Heather Hogan wrote about her experience as an early LongCovid patient: "I was the science." And, as if a cornucopia of mysterious symptoms was not enough, social isolation itself is a public health risk.
Stage One: Connection. The moment when you hear about, read about, or connect directly with someone else who shares your symptoms, diagnosis, life stage, or whatever characterizes your health status. This is what Brené Brown might call the "knowing laughter" stage, when shame falls away. Finding out that you are not alone is essential to survival when you are living with an unrecognized or poorly-understood condition like LongCovid.
Stage Two: Organization. People who have banded together start sharing ideas about how to solve problems they all face. For some COVID-19 long-haulers, that meant joining a group like Body Politic and contributing to their study. There are LOTS of groups satisfied with (or stuck at) this stage of development. They've solved a problem for themselves but their reach is limited and the ideas don't spread.
Stage Three: Resource infusion. Mainstream institutions take notice of the small-group innovation and start helping. Ed Yong's article about long-haulers in The Atlantic was one turning point – media attention is a powerful boost to any social movement. The U.S. Centers for Disease Control acknowledging that 35% of people who received a positive test result are not back to normal after the suggested "recovery" period is another example of a mainstream institution acknowledging the validity of the evidence gathered by patient networks. An article in the journal Social Science & Medicine and an editorial in Nature both called for patients to continue to be involved in defining the condition — another boost for the LongCovid groups' signal.
What the LongCovid peer networks really need now, though, is institutional support and funding for their research and organizational efforts. And here's the key point: It would not be charity. It would be a strategic advantage to have these pioneers and problem-solvers on your team.
The National Institutes of Health's All of Us program's heavy use of community partnerships is an example of mainstream attention and energy pulling grassroots networks from Stage Two to Stage Three of peer-to-peer health innovation. Count Me In is another example of serious money and resources being infused into patient-partnered research efforts.
Here's are two questions for you, dear reader:
What other examples have you seen of a transition between Stage Two (small-group innovation) to Stage Three (large-scale recognition and resources)?
A "moon shot" is a good label for an ambitious project that originates inside a big organization (like a federal agency). What's a term for an ambitious project that originates OUTSIDE a big organization but is recognized as needing to be nurtured and given resources by powerful, mainstream institutions?
Please let me know what you think in the comments.