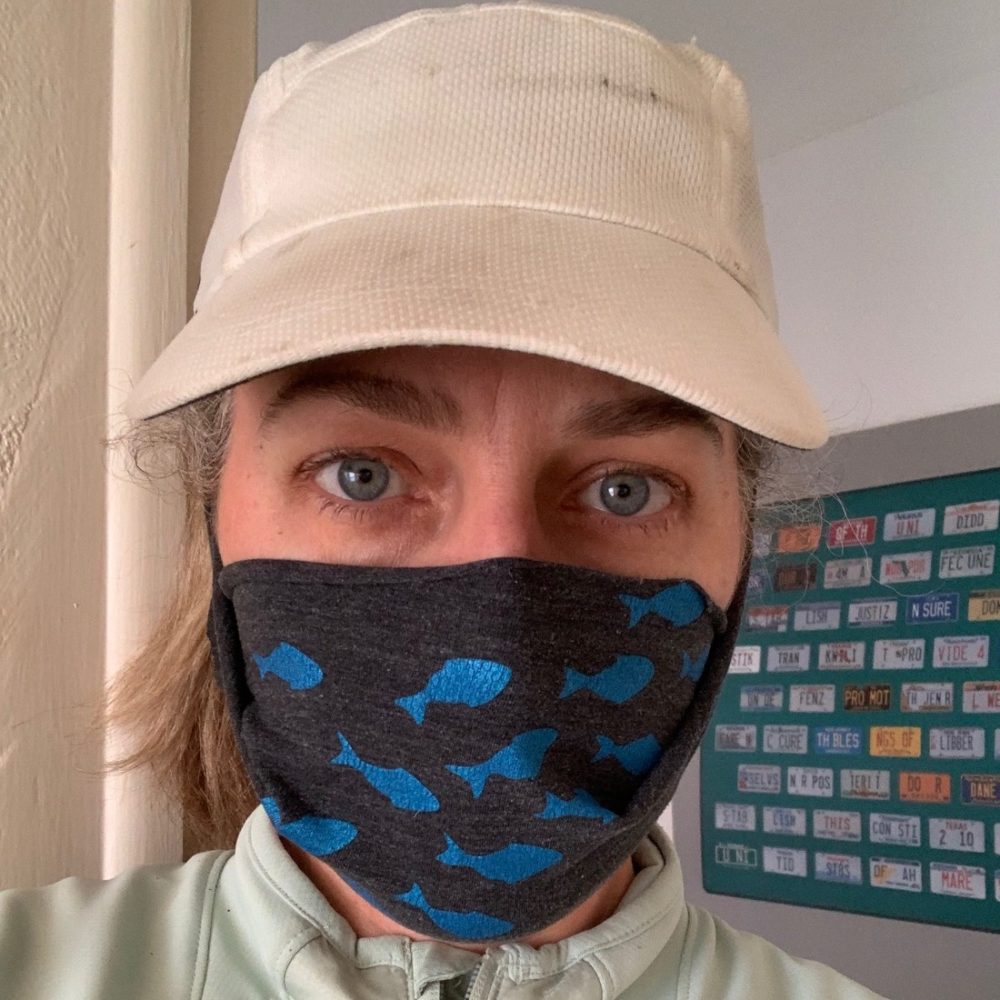 As a trusted node on my friends' "nerd network" (i.e., the people who are known to dig in and research everything so others may not have to) I have been asked a few questions that I'd like to share, in the hopes that other people can add their own perspectives — and new questions!
Question: What's up with people wearing masks? Are you?
My answer: Yes, I am starting to wear a mask when I am likely to run into groups of people or go into a store. It's mostly to remind myself not to touch my face when I'm out, but also to remind people to keep their distance.
George Gao, director-general of the Chinese Center for Disease Control and Prevention, was asked what mistakes other countries are making. His answer? "The big mistake in the U.S. and Europe, in my opinion, is that people aren't wearing masks." Read the full article in Science — it's excellent.
Here are two Do-It-Yourself (DIY) videos for creating your own mask:
Question: If I get sick, should I keep track of my temperature? Anything else?
My answer: I'm planning to track symptoms, yes, if I or someone in my household gets sick. We have a digital thermometer and a pulse oximeter (to check oxygen level and pulse).
Here's a COVID19 symptom diary you could use. There are also more sophisticated versions out there, particularly for people with chronic health conditions, like PatientsLikeMe's COVID19 tracker. Disease InfoSearch is creating a patient registry to track COVID19 symptoms and long-term effects, which is a way for regular people to contribute to scientific discovery. And the Open Health Network is providing a range of tools, including a COVID symptom tracker.
Question: What is it like to have the virus?
Answer: I don't know, but I'm reading first-hand accounts to get an idea. Here are some essays and threads written by people who are recovering, such as Kelli Dunham, Shiraz Maher and Eliza Shapiro. "Em" wrote about their experience with being on a ventilator. Everything I read makes me want to double down on my safety measures.
Here's a video to share with anyone who scoffs at your precautions or calls you paranoid:
Question: I'm not sick yet, but I know this: If I do get the virus and have complications, I don't want to take up an ICU bed. And I don't want die alone in the hospital. I'd rather die at home. What should I do?
My answer: Please continue to minimize your exposure and risk. Stay home, wash your hands frequently, try not to touch your face, etc. But if you do want to have an end-of-life conversation that is specifically related to COVID19, an organization called Respecting Choices created a toolkit. This story of one woman's death may help to bring focus to your own conversations.
If you really want to dig into this issue, read: "Pandemic palliative care: beyond ventilators and saving lives" (Canadian Medical Association Journal, March 31, 2020).
Updated on 4/3/2020: Muriel Gillick, MD, wrote two articles about COVID19 that are worth your time to read if you care for — or are — someone age 70 and older:
A key quote from her blog post:
Many though by no means all people, if they know the end is likely to be near, do not want aggressive medical treatment that offers little or no benefit. This goes for people with advanced cancer, severe heart disease, or any of a variety of other conditions that are usually fatal. They'd rather receive medications such as morphine to ease their shortness of breath and medications such as lorazepam to ease their anxiety than to undergo extremely uncomfortable treatment that has only a small chance of prolonging their lives. Severe Covid-19 is another condition for the oldest Americans to consider adding to the list.
OK, your turn! What would you add to these answers? What questions are you and your friends asking each other?
For more examples of pandemic-inspired inventions for clinical and home care, see: COVID19: Peer to peer innovation.
Featured image: My home-made mask, made from an old T-shirt. Please excuse the grubby-looking running hat.