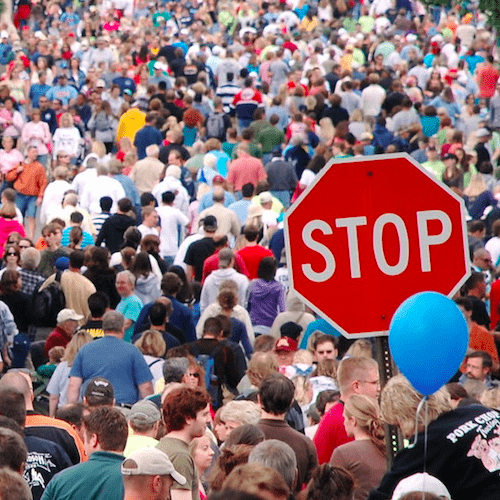 A community colleague wrote:
Our neighborhood list serve has all sorts of 'advice'. I'll spare you:)

Are you able to assess how peer-to-peer exchange is playing out with all of this?
In the spirit of Public Q&A, I invite readers to join me in responding:
Yes. I'm seeing a ton of peer-to-peer exchanges of information, which I think is positive because we need EVERYONE to help stop the spread of this virus. Scientists and clinicians are on the front lines, but we all play a role in shaming, shocking, bullying convincing loved ones to stay home.
Italians are attempting to warn Americans in this video (addressing their "10 days ago" selves as a way to spark recognition in viewers of their own doubting, complacent, defiant ways):
I've also seen some ad hoc crowdsourcing online. For example, Matt Might tweeted a question on behalf of a parent of a teen who wants to go out: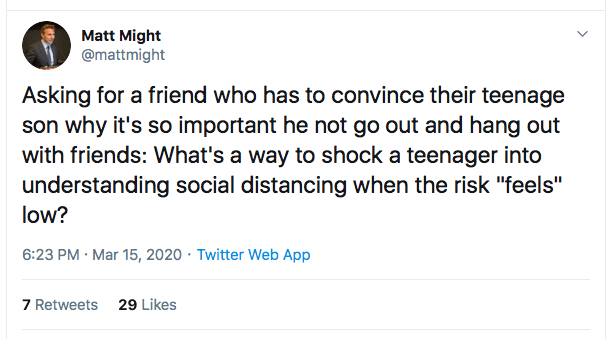 The responses were thoughtful, offering a wide range of possible approaches, which is useful since every kid is different AND a parent may need multiple arguments to make their point.
ZDoggMD (aka Zubin Damania, MD) modeled how to talk about COVID19 with a middle-schooler — his own daughter:
There is always a possibility of misinformation spreading in networks. Rachel Martens wrote a blog post about how she is approaching the role of peer educator and fact-checker. I love this paragraph and hope that you'll click through to read the rest of her excellent post:
I've had a number of opportunities lately where I've been approached by parents of medically complex children. Many of the practices the world around us is recently learning about like "social distancing" are things we adopt on a regular basis to protect our kids. Yet in the spaces we often dwell in on social media, it can become increasingly frustrating to see the ongoing battle when it comes to misinformation. I was asked by a few people about writing about how we can improve the dialogue as parents and ensure that everyone comes at knowledge acquisition from an accurate place. It can be hard to know how to educate and encourage someone to see life from a different lens when what people say on the internet makes you rage internally. Everyone wants to feel empowered, but this is a stressful time that can show prime examples of something called "cognitive bias".

– Rachel Martens, #SciComm Like a Mother
Playing the role of community fact-checker and peer-educator can be exhausting. Heather Pierce put it well in her tweet: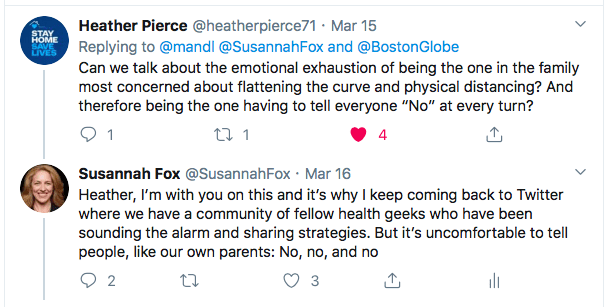 And Brigid Delaney's tweet hit a nerve with a lot of people:

Some of the replies made me laugh out loud, both in horror and recognition of my own elder family members' exploits:
"My sister and I had a phone call about trying to stop mum from going to a party on Saturday. Karma."

"I went over to check on my mother and found she wasn't there after she had been told to stay in by everyone and had no need to go out, I ended up sitting at the kitchen table and when she arrived back I said 'And where do you think you've been?'"

"Had to forbid my 86 yo mother from working out with her trainer at the local gym."

"My mum went dragon boating in Tasmania on the weekend after I specifically said not to."
OK, that last one is far more adventurous than what my family members are doing, but still.
This is the tweet that resonated with me the most because we really are all in this together:
"Thank you for all the replies. I needed this today. It has cheered me up immensely. My mum is 90 and insisting on staying independent."
Back in December (a million years ago, it seems) Judith Graham wrote an excellent article about how to parent your aging parents when they don't want help. Personally, I took the advice to heart and began new conversations with elders in my family. I let them know that I was on their side and supportive of their choices, for example, to age in place, but only if they would allow me to help set them up for success. We contacted a home health aide service to begin conversations about how to get help when they need it. Those conversations in January took on some urgency when the COVID19 virus began making news. And now we are in lockdown mode. I am checking in with elders, peers, and teens on a constant rotation, encouraging us all to stay home and stay safe.
Now it's your turn, readers.
If you need peer advice about something you are dealing with, drop a comment below. And please let me know if you see other examples of peer-to-peer connection – positive or negative.
Featured image: A detail of "Crowd" by Amy West on Flickr (captured in 2009).