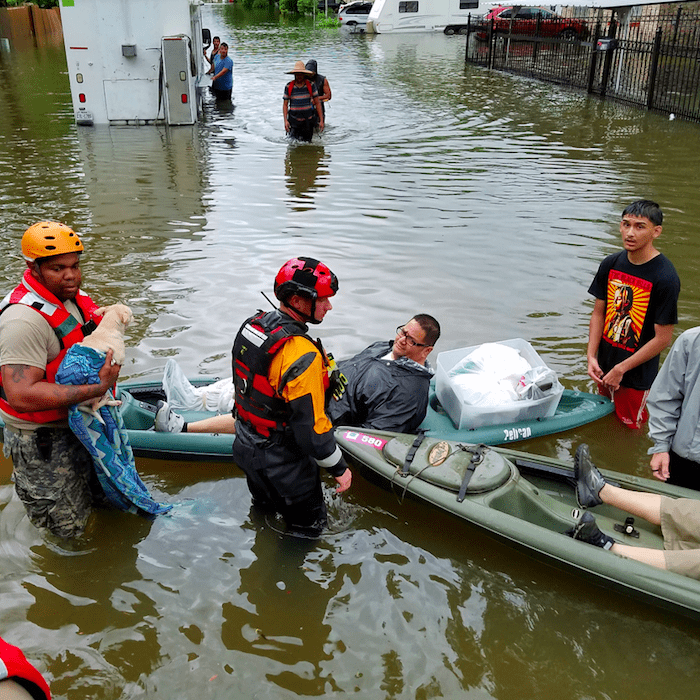 It's inspiring to watch the "Cajun Navy" of fishing and pleasure boats rescuing people in post-Hurricane Harvey Houston, along with the National Guard and other officials. I'm always on the look-out for examples of people pitching in to help each other and solve problems, whether in peer-to-peer health care, the Maker movement, or evacuating a plane, so I loved the article that David A. Graham just published in The Atlantic on why ordinary citizens are acting as first responders in Houston.
Read what Craig Fugate, former head of the Federal Emergency Management Agency, told Graham in 2015:
"We had almost by default defined the public as a liability. We looked at them as, We must take care of them, because they're victims. But in a catastrophic disaster, why are we discounting them as a resource? Are you telling me there aren't nurses, doctors, construction people, all kinds of walks of life that have skills that are needed?"
Replace "public" with "patients" and read that through again. Why is health care discounting ordinary people as a resource? When a personal catastrophe hits, such as a life-changing diagnosis, how might we help people turn to our own "Cajun Navy" of fellow patients and caregivers who can provide vital advice and information? Why, when health systems need reform, do we fail to listen to patients and caregivers, who have a wealth of experience and could contribute to positive change?
Another quote from The Atlantic article (emphasis mine):
"When you step back and look at most disasters, you talk about first responders—lights and sirens—that's bullshit," Craig Fugate, who headed FEMA during the Obama presidency, told me in 2015. "The first responders are the neighbors, bystanders, the people that are willing to act."

That underpinned "whole-community response," the principle around which Fugate organized FEMA during his eight years in office. (Long only recently started on the job, having been confirmed in June.) The basis for whole-community response is that, while the government simply can never provide a response as quickly as needed, a top-down response from the government isn't the best answer anyway. Local people know much better what they need, and they benefit from being involved.
A top-down response in health care is not always the best answer either. "Locals" (aka patients and caregivers) would benefit from being involved in health care decision-making, particularly when it affects them the most.
We are consistently leaving half the team on the bench in health care and that needs to change. Let's create a "whole-community response" in health and health care. I'd welcome your ideas and comments below.
Featured image courtesy of the Texas National Guard.