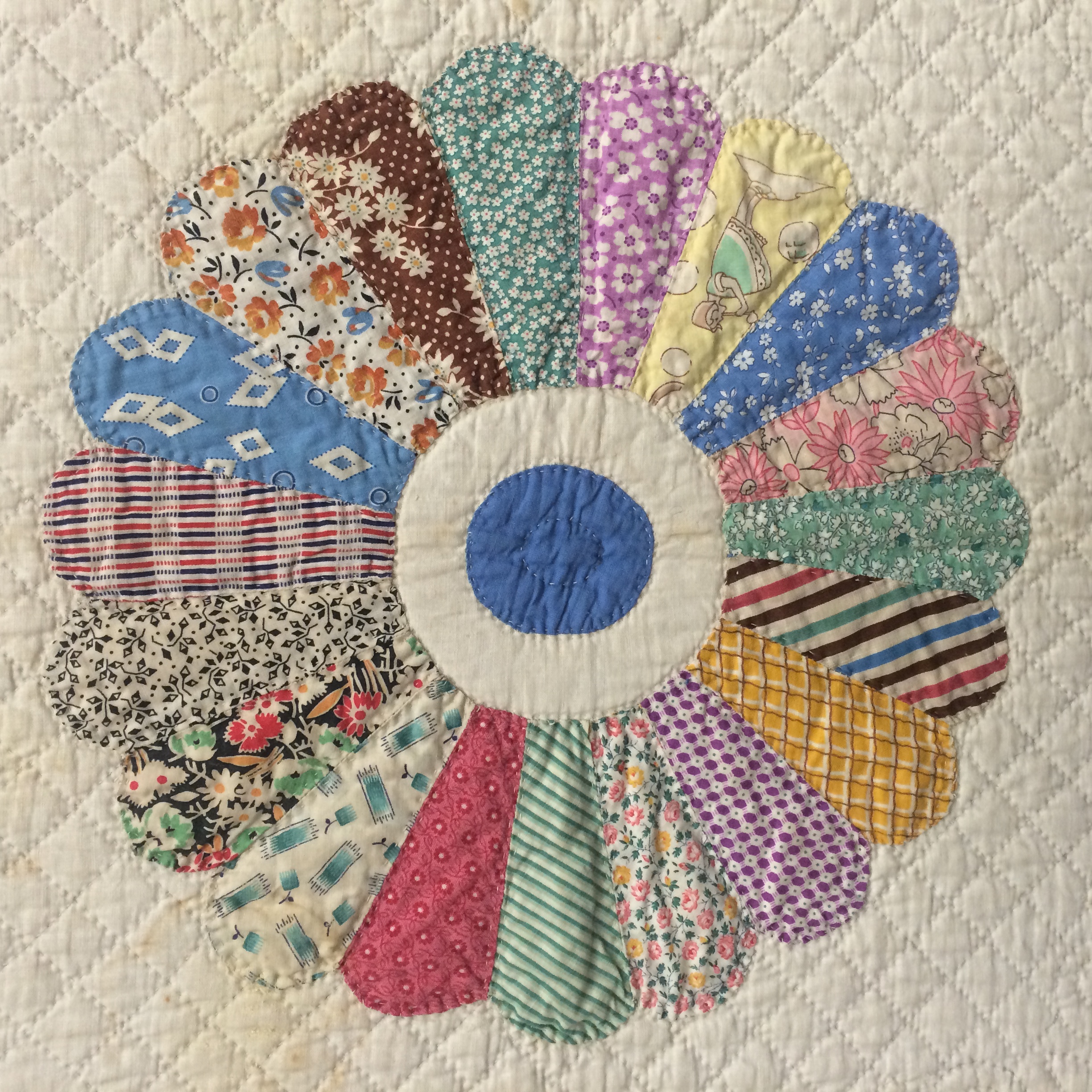 I hung a quilt in my office yesterday. It was not sewn by any of my ancestors, but a great-great-aunt did have the good taste (and fortune) to buy it.
The quilt not only brightens the room, but also brings a feminine touch to what is, yes, the office of the first woman to be Chief Technology Officer at HHS.
It also reminds us that many hands on a project — such as a quilting bee — can create a beautiful whole, just as many eyes make all bugs shallow (a principle of open-source software development).
A hand-pieced quilt is also a nod to the maker movement. Home health hackers craft solutions to problems that they or a loved one may face, often using only the materials they have on hand. They are one end of a wide spectrum of inventors, developers, and entrepreneurs which I believe is poised to have a significant impact on health and health care.
Technology has become a muddy term, interpreted through the sometimes narrow lens of the beholder, like the parable of the blind men and the elephant. It's not just software and IT. It's also hardware, devices, and textiles.
Just as we need to open the aperture of health care to include patients' views, we also need to step back and see the whole picture of technology. And we need to remember our history, even (especially) when it is painful.
For example, the largest quilt in the world — the AIDS Memorial Quilt — was begun during a dark time in health care:
The Quilt was conceived in November of 1985 by long-time San Francisco gay rights activist Cleve Jones. Since the 1978 assassinations of gay San Francisco Supervisor Harvey Milk and Mayor George Moscone, Jones had helped organize the annual candlelight march honoring these men. While planning the 1985 march, he learned that over 1,000 San Franciscans had been lost to AIDS. He asked each of his fellow marchers to write on placards the names of friends and loved ones who had died of AIDS. At the end of the march, Jones and others stood on ladders taping these placards to the walls of the San Francisco Federal Building. The wall of names looked like a patchwork quilt.
Inspired by this sight, Jones and friends made plans for a larger memorial. A little over a year later, he created the first panel for the AIDS Memorial Quilt in memory of his friend Marvin Feldman. In June of 1987, Jones teamed up with Mike Smith and several others to formally organize the NAMES Project Foundation.
I remember walking along the narrow paths between sections of the quilt when it covered the entire National Mall in Washington, DC, in 1996. Hand-made squares, each one memorializing a life lost.
We cannot forget that chapter of health care. And we cannot forget the prehistory of modern technology, as Virginia Postrel recently wrote in Aeon magazine:
In today's popular imagination, fabric entirely belongs to the frivolous world of fashion. Even in the pages of Vogue, 'wearable technology' means electronic gadgets awkwardly tricked out as accessories, not the soft stuff you wear against your skin – no matter how much brainpower went into producing it. When we imagine economic progress, we no longer think about cloth, or even the machines that make it.
This cultural amnesia has multiple causes. The rise of computers and software as the very definition of 'high technology' eclipsed other industries. Intense global competition drove down prices of fibres and fabric, making textiles and apparel a less noticeable part of household budgets, and turning textile makers into unglamorous, commodity businesses. Environmental campaigns made synthetic a synonym for toxic. And for the first time in human history, generations of women across the developed world grew up without learning the needle arts.
As understandable as it might be, forgetting about textiles sacrifices an important part of our cultural heritage. It cuts us off from essential aspects of the human past, including the lives and work of women. It deprives us of valuable analogies for understanding how technology and trade transform economies and culture. It blinds us to some of today's most pervasive innovations – and some of tomorrow's most intriguing.
She goes on:
Weaving is the original binary system, at least 9,000 years old. Warp threads are held in tension, and weft threads go over or under them. Over-under, up-down, on-off, one-zero.
What do you think? What do you keep nearby to inspire you? What aspects of technology are you most excited about these days?