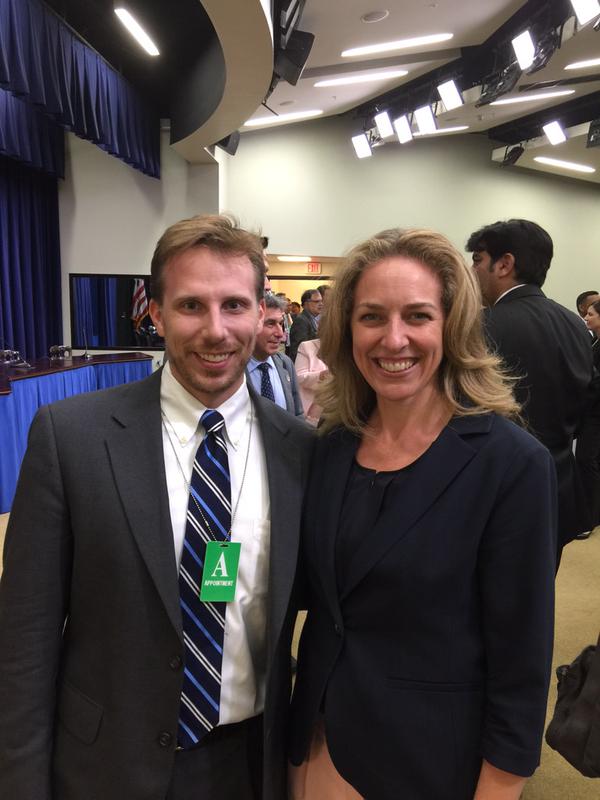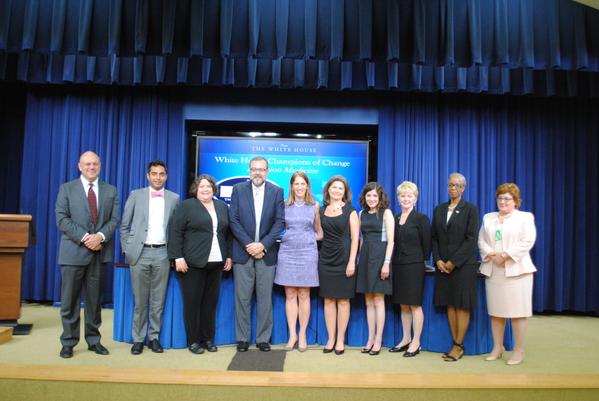 Nine Precision Medicine "Champions of Change" were honored at a White House event on Wednesday, July 8. I count everyone in that picture as a community colleague — and some as dear friends.
My role at the event was to moderate a discussion with four of the Champions: Amy Gleason, Anish Sebastian, Hugo Campos, and Howard Look.
In my introduction to the panel, I talked about how this was a panel about data liberation. These four Champions demonstrate how essential it is for individuals to have access to their data, to lift the false boundary between home and clinical care, and to allow patient autonomy to flourish.
Data liberation requires collaboration among stakeholders: patients, family caregivers, clinicians, and yes, government. By listening to each other, we can understand the pain points on both sides and recognize when we need to revisit existing policies, practices, and systems.
Our overall mission in the federal government — in the words of DJ Patil, our Chief Data Scientist — is to enable patients to access their electronic health data easily and contribute it for research. To me, that includes personal research — the right to pursue answers to your own health questions.
My mission as Chief Technology Officer of HHS is to democratize access to data, information, and tools for innovation, to help build communities of practice, and to bring in outside talent and know-how when we need it.
Symplur captured a tweet transcript of the event, but I want to add, as always, that the conversation is never over. Here is a sample of the questions that the panelists posed to each other:
Why is precision medicine — the right care at the right time for the right person — important to you?
What do you say to people who say, "Only trained medical professionals should be making therapy decisions based on the data?"
Why is patient autonomy important?
What would you change for others who come after us? What one barrier would you lift, if you could?
Please contribute your ideas in the comments below.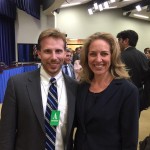 On a personal note, another highlight of the event was meeting Matt Might, whose story has inspired me from afar for many years, as I wrote in this post: Every-day Magic.
His work on behalf of his son is emblematic of why I look to people living with rare disease as the "alpha geeks" of health care.