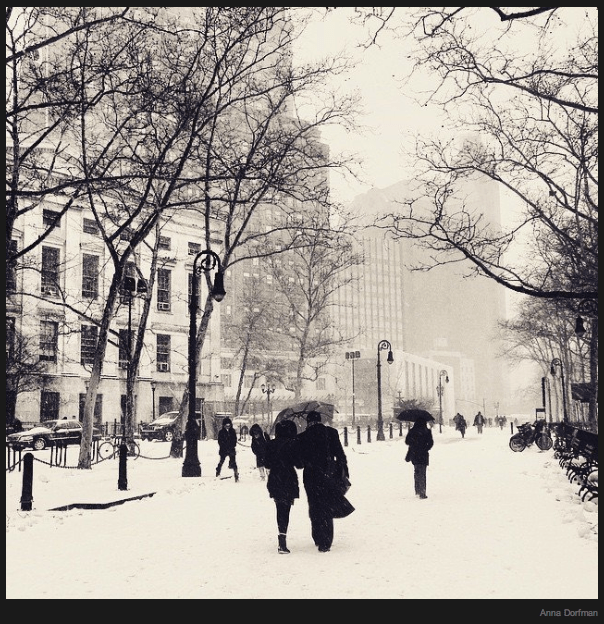 I'm taking advantage of the "snow day" to share what I have been reading, watching, listening to, thinking about — and I invite you to join me, even if you don't have a snow day. (Truth be told, DC only got a couple of inches and a 2-hour delay, but humor me.)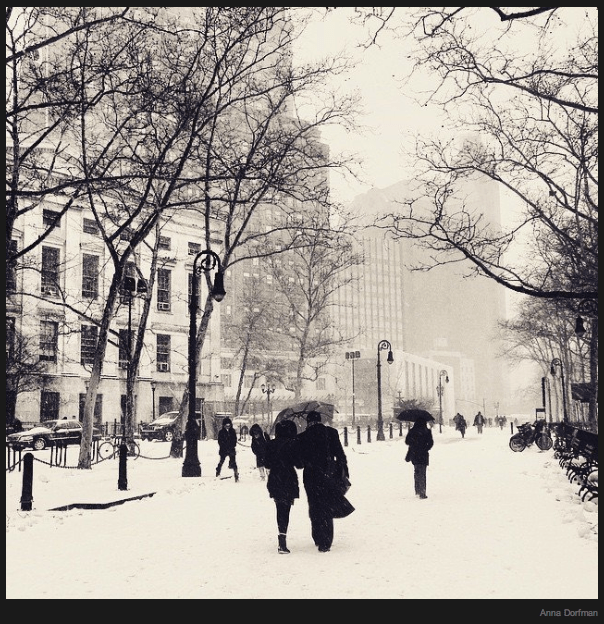 Legitimacy through public service: The New York Times lifted their pay wall so non-subscribers could follow their storm coverage. I love when legacy media companies are aware of the responsibility — and opportunity — embedded in moments of public need. How might we infect medical and scientific journals with the same sense of responsibility and opportunity?
Note: I grabbed the image above from the NYT Instagram slideshow (and felt OK about it since they grabbed it from Anna Dorfman's feed in the first place).
Legitimacy through honesty: Hank Green was one of the three YouTube stars who interviewed President Obama after the State of the Union. He wrote about legacy media companies' vicious reaction. Key quotes:
I may be biased here, but I feel like there's an actual and honorable goal in all of this. America needs to convince young people that there are good reasons to be civically involved. Millenials are soon to be the biggest hunk of the electorate and, if the mid-terms are any indication, they simply don't care. And that shouldn't be surprising since no one is connecting to them in the ways they connect with each other or talking about issues that matter to them from perspectives they can identify with.

Legacy media accuses young people of being apathetic while actively attempting to remove them from the discussion…

Legacy media isn't mocking us because we aren't a legitimate source of information; they're mocking us because they're terrified.
Swap out "legacy media" and swap in "legacy health information sources" or "legacy health systems" and we've got ourselves a great discussion topic. For example: "Legacy health systems accuse patients of being apathetic while actively attempting to remove them from the discussion."
Speaking of honesty: Hank has talked openly and eloquently about living with ulcerative colitis. Watch:
Soft power: I'm intrigued by the use of unconventional means to shift the public conversation about health and health care. Poetry, music, painting, dance, theater — these are all ways to reach people, and really, to reach into people. Into their hearts, into their secret wishes and dreams.
Joseph Nye, a Harvard professor, invented the term "soft power" and has written about how it "rests on the ability to shape the preferences of others" through attraction rather than coercion. Decades ago, Antoine De Saint Exupéry captured the idea in this lovely line:
If you want to build a ship, don't drum up people to collect wood and don't assign them tasks and work, but rather teach them to long for the endless immensity of the sea.
Where do you see examples of people wielding soft power to change the culture of health?
My pick this week: The Writer's Almanac, which is edited by Garrison Keillor. I had noticed that the Almanac often features health or medical history so I asked about it on Twitter — and they answered:
@writersalmanac I love your updates, which so often contain health/medical history. May I ask if that's of special interest to you?

— Susannah Fox (@SusannahFox) January 23, 2015
@SusannahFox GK likes to include scientific breakthroughs in the daily notes and that often equals medical milestones!

— The Writer's Almanac (@writersalmanac) January 23, 2015
And now for an excerpt of the poem they shared that has stuck with me since the moment I read it: 
Music, by Anne Porter
[…]
Why is it that music
At its most beautiful
Opens a wound in us
An ache a desolation
Deep as a homesickness
For some far-off
And half-forgotten country
I've never understood
Why this is so
But there's an ancient legend
From the other side of the world
That gives away the secret
Of this mysterious sorrow
For centuries on centuries
We have been wandering
But we were made for Paradise
As deer for the forest
And when music comes to us
With its heavenly beauty
It brings us desolation
For when we hear it
We half remember
That lost native country
We dimly remember the fields
Their fragrant windswept clover
The birdsongs in the orchards
The wild white violets in the moss
By the transparent streams
[…]
Read — or listen to — the whole poem here, along with wonderful history lessons about Elizabeth Blackwell, the first woman to complete medical school in the U.S., and Gertrude B. Elion, who helped develop drugs to to treat leukemia, herpes, gout, and malaria.
Oh, and to close a loop: I think Hank Green and other YouTubers wield soft power, attracting people to their brand of truth, making their audience long for news and information sources that meet them where they are. Again, I see parallels with alternative health information sources. Do you?