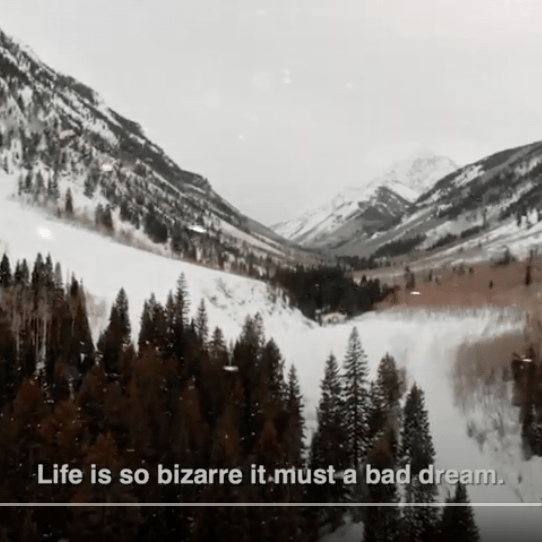 Through her work as a film-maker, Maggie Whittum helps the rest of us make sense of this upside-down world we find ourselves in. And she reminds us that, unfortunately, this disorientation is familiar to people who survive stroke.
Andrew Simonet, founder and director of Artists U, recently wrote an essay entitled, "This is What We Train For." Here is an excerpt:
Artists navigate the unknown. We go in our studios and ask new questions, pushing away from shore and into uncertainty. In this time of roiling uncertainty, we know how to stay awake and responsive, and how to help others do the same.

Artists build possible futures. This moment desperately needs futures beyond the sobering medical news and the jarring contortions of policies and markets.

We are connectors, conveners, community builders.

We understand rhythm, flow, and negative space. Not everything we do right now needs to be doing. Silence is a way of telling. Stillness is movement.

We bear witness. We listen to and reveal what it is like to be alive right now.

We use what we have on hand to build what we need. We make sculptures from discarded materials, dances out of everyday gestures, music from found sounds. At a time when many are lamenting what is being taken away, we know how to begin with what we have.

We create the images and songs and dances and stories that are needed, that comfort and challenge and inspire, that return us to our deeper selves or urge us forward into transformation.

We build alternative economies based in collaboration, barter, D.I.Y. resourcefulness, and repurposing what others do not value.

We challenge assumptions and reframe the world. How we see this current emergency and how we see ourselves within it will determine how we emerge from it. Artists look past the noise to deeper, more radical possibilities.
How might we tap into that energy in health and health care? Where do you see examples of people creating new pathways, processes, and tools?
Please share in the comments.
Featured image: A still from Whittum's video, "Surviving A Pandemic Is like Surviving A Stroke."