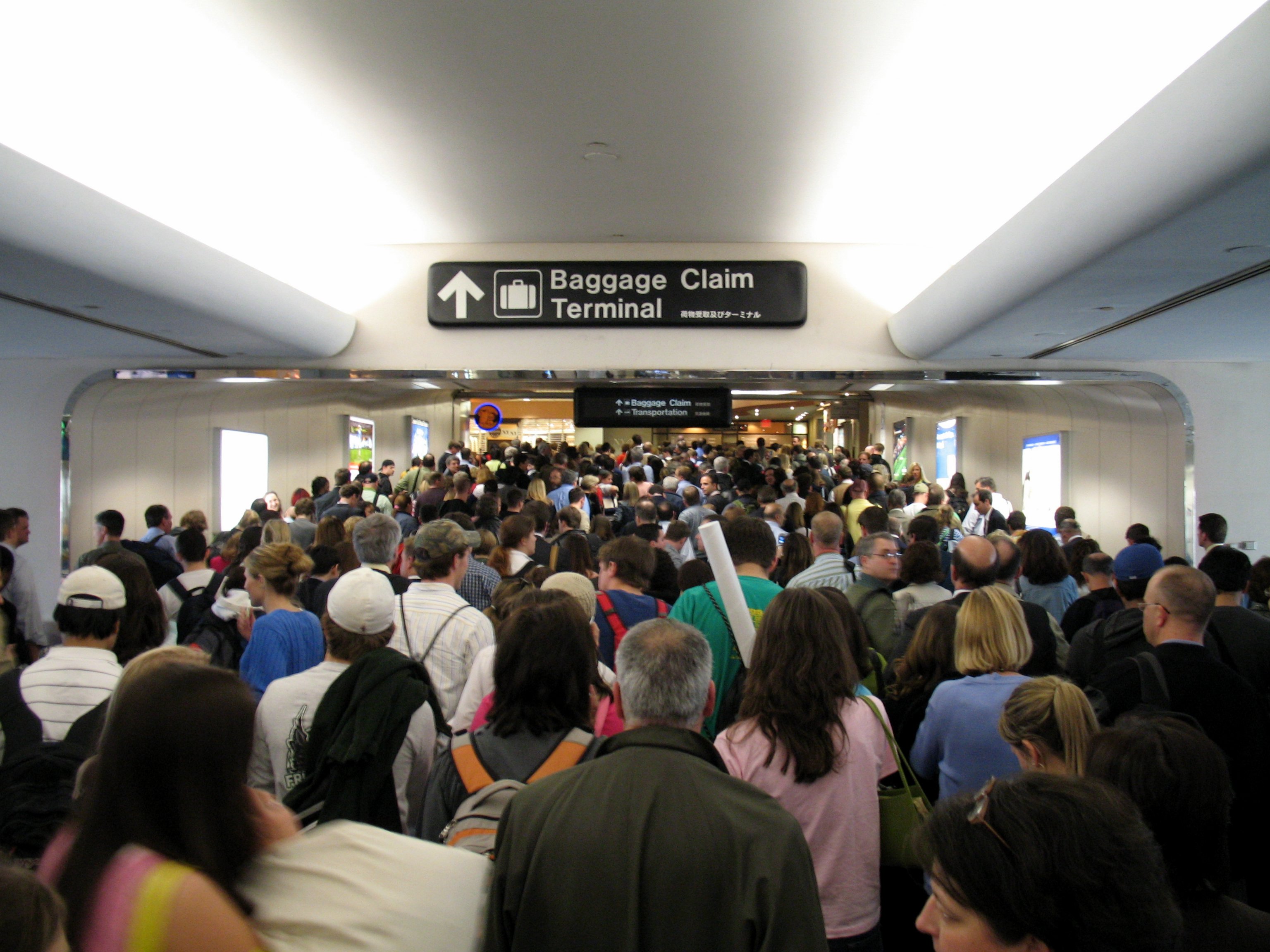 Inspired by a call for essays about e-patient travel stories: 
There is an unspoken code at airport gates. Don't touch me. Don't touch my stuff. Don't step in front of me unless you have a heck of a good reason, especially if I got here before you did.
We mark out our territory and imperceptibly edge forward, inch by inch, until the moment our row or zone is called. Then the race begins. Don't look to the side. Don't make eye contact. Get to that door before someone notices that you have three carry-ons, not two.
On this particular day, we were told it was going to be a completely full flight, so people stood like sentinels next to their bags, checking out each others' stuff a little suspiciously.
First class was called forward. The rest of us pressed closer. Members of the military were invited to board.  Closer. Then the moment that signals the end of pre-board: Is there anyone who needs a little more time?
People eyed each other cautiously. Who's going to get on early and take up that crucial space in the overhead bin?
All of a sudden, a woman rushed into the gate area pushing a toddler in a stroller, carrying a car seat and diaper bag, and somehow also pulling a suitcase straining at its zippers.
She looked frazzled and stressed, like she'd run the length of the terminal to catch this flight. We all backed up, moved our own little campsites aside, and made a path for her. Lucky pre-board. "But with all those bags?" I heard someone ask behind me. Yes. All those bags. Cue the eye-rolling and grumbling.
What we didn't know (and I found out later) was that this young mom had just returned from introducing her toddler to her grandmother in Taiwan. Her husband hadn't been able to join them due to a last-minute work assignment and the reason why she had to carry on that big suitcase? It was full of special formula, the only kind that her daughter can drink since she lives with a mitochondrial disorder.
So yes. She had every right to be frazzled. She had in fact flown all night and run the length of SFO, somehow pushing, carrying, and pulling all the stuff she needed to keep her daughter safe. And instead of looking daggers at her, I wish we could have all looked with love and empathy. While we were fighting for position, she was fighting real, invisible enemies.
Once again, all together now: Be kind, for everyone you meet is fighting a hard battle. How might we support our fellow travelers? What can each of us do to help when we see someone who is having a tough time, even if they don't look sick?
Featured image: "Fun at the airport" — Scott on Flickr