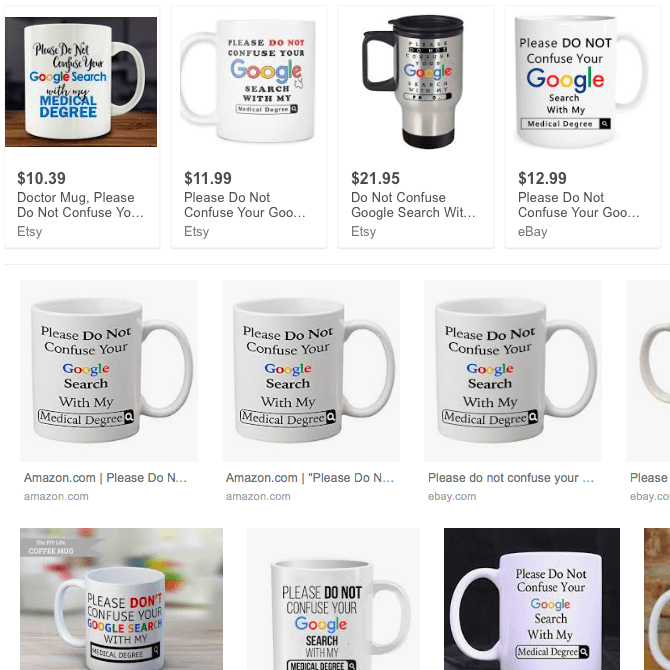 Every few weeks someone posts some version of "Don't confuse your Google search with my medical degree."
It appears on Facebook, on Twitter, on coffee mugs, and on signs in doctor's offices. Today I found out that there's a doctor who sings about it in English and in Swedish.
Here's one fabulous reply, written by Trisha Greenhaigh:
Don't confuse the 1-hour lecture you had on my condition with my 20 years of living with it.
That tweet touched off an epic thread of over 500 replies, people sharing their stories about living in the unmapped regions of medicine. For example:
This is one of the heartbreaks about being autistic. We tend to love certainty and support science. Yet, we constantly face scientific and medical professionals whose credentials we want to trust but whose information has been greatly misinformed. It's a systemic problem. – @JHMarble
And:
I  have a condition that's so rare that none of my specialists has seen it before. After dx, I asked the geneticist if we could now discuss pain management. Her response: "It's not supposed to hurt. There's nothing in the literature about it hurting." – LoomesGill
And:
My consultant sneered at one of my questions and wondered if I had read it in the Daily Mail. No, the international journal of surgical pathology actually, I said and offered him the article to read. – @JennyR23
And:
My consultant once agreed to carry out a test to disprove my hypothesis. Instead, it proved it. As chair of the national committee he said I'd turned his career on its head and would write a BMJ article. Best outcomes arise when doctors and patients work together with respect. – @debimasseywm
My contribution to the public conversation has generally been national survey data showing that the horse is out of the barn on this one, at least in the U.S. The vast majority of Americans of all ages have access to the internet and the majority say they have looked online for health information. As I've written elsewhere, Dr. Google is, for many Americans, a de facto second opinion. For some people their best hope is to connect online with other people who share their symptoms, diagnosis, or life stage.
What I'd like to do is open a thread about our answers to these naysayers. If you've got a favorite study or article to cite, please share it. What evidence do skeptics need to read in order to catch up to us on the path of understanding? How might we respectfully change their minds?
Beyond data, let's hear some stories about how a search online has led to information that helped you in some way with your health or in taking care of someone else. It could be big or small, life-changing or not. What story would you tell someone who doubts that the internet is useful — even essential — to navigating health care?
I'll start:
On what turned out to be the last day of my Dad's life, I used Google to search: "what does dying look like." Dad met nearly every sign and symptom. I was alone in the room with him at the time; Mom and the nurses were taking a break. No decisions needed to be made. That's not what that Google search was about. It was about having the information I needed to make my own choices about how to spend that day. I held his hand and stayed.
What's your story? Comments are open.