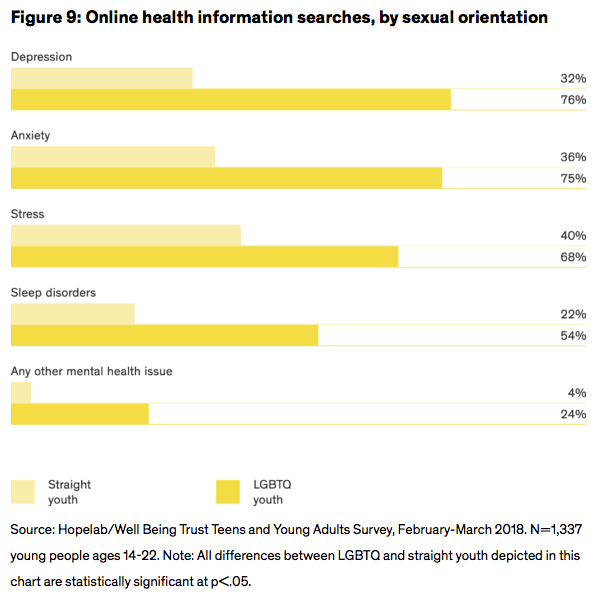 Below are excerpts of a report written by Victoria Rideout, M.A. and Susannah Fox and published in July 2018 by Hopelab and Well Being Trust.
Definitions: LGBTQ and cisgender/straight youth
The survey was conducted between February 12 and March 19, 2018, with 1,337 young people ages 14 to 22 representing the 50 states and the District of Columbia. Interviews were offered in English or Spanish, and were conducted either online or by telephone, depending on respondent preference.
We used a two-step method to ask respondents about their current gender identity and their assigned sex at birth. Separately, we asked about their sexual orientation. The following questions were asked of all respondents at the end of the survey, along with other demographic measures:
What sex were you assigned at birth, on your original birth certificate? 49% answered male; 51% answered female; and one person skipped the question
How do you describe yourself? 49% answered male; 50% answered female; 1% answered that they do not identify as male, female, or transgender; one person answered transgender; and one person skipped the question.
Which of the following best represents how you think of yourself? 82% answered straight; 7% answered bisexual; 5% said they don't know the answer; 3% answered lesbian or gay; 3% answered "something else"; and 1% skipped the question.
We chose to use the inclusive acronym LGBTQ to represent the 162 young people who identify as something other than cisgender and/or straight.
Social media use among teens and young adults who identify as LGBTQ vs. straight:
96% of LGBTQ youth use at least one social media site, which is statistically the same as the 92% of cisgender/straight youth who say the same. The same four sites are the most popular among both groups: Snapchat, Instagram, Facebook, and Twitter.
Digital health practices:
Lesbian, gay, and bisexual youth are more likely than those who identify as heterosexual to report going online for health information, accessing other people's personal health stories online, and sharing their own health stories.
Virtually all (98%) young people who identify as lesbian, gay, or bisexual say they have gone online to find information about health issues, compared to 86% of those who identify as straight. There are large differences between straight and LGBTQ young people in terms of the topics they say they research online, particularly when it comes to mental health. LGBTQ youth are far more likely than straight youth to report having gone online to try to find information about depression (76%, compared to 32%), anxiety (75%, compared to 36%), sleep disorders (54%, compared to 22%), and "other mental health issues" (24%, compared to 4%).
81% of LGBTQ youth say they have watched or read other people's health stories online, compared to 57% of straight youth.
More than one in four (28%) LGBTQ young people report having shared their own health stories online, compared to 13% of their straight peers.
There are no statistically significant differences between straight and LGBTQ youth in terms of their reported use of mobile health apps (64% have done so), trying to find people online with similar health concerns (39%), or using online resources to connect with health providers (20%)
For previous research on LGBT youth and online use, see "Out Online," published in 2013 by the Gay, Lesbian & Straight Education Network.
For more information on how to conduct survey research that accurately measures gender, please see:
See also:
To see a fact sheet about U.S. adults' use of online health resources, please visit the main Research page.