This post originally appeared on RWJF's Culture of Health blog: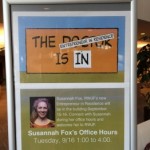 I am thrilled to begin my job as the entrepreneur in residence (EIR) at the Robert Wood Johnson Foundation.
You might think that the EIR role is traditionally associated with venture capital firms, not foundations. But scratch the surface and you'll find commonalities between the two industries. Both VCs and philanthropists have daring ambitions, place lots of bets, and hope for a big pay-off every once in a while. The difference is that a philanthropy like the Robert Wood Johnson Foundation places a priority on societal dividends, such as greater access to health care or a reduction in childhood obesity.
I also like this definition of entrepreneurship: "The pursuit of opportunity without regard to resources currently controlled." That fits the Foundation to a T as we pursue the audacious goal of building a Culture of Health in the United States. Continue reading →